Fiber deployment in the US has grown substantially in recent years and could see its highest growth period between now and 2025, according to a study performed by RVA LLC Market Research & Consulting (RVA).
The 2021 Provider study – conducted by RVA on behalf of the Fiber Broadband Association (FBA) – shows that fiber broadband now passes over 60.5 million homes in the US, growing 12% in 2021. To date, 43% of US households can access fiber. With 6.9 million homes passed by fiber for the first time in 2021, last year represented the second biggest growth year for FTTH, coming just behind 2020, which clocked in at 7.2 million new homes passed.
As FBA wrote in a press release: "The Study suggests that if all federal infrastructure funding is directed at fiber, there could be more fiber deployed in the next five years than all the fiber deployed to-date, enabling the initial U.S. FTTH build to be nearing completion by the end of this decade."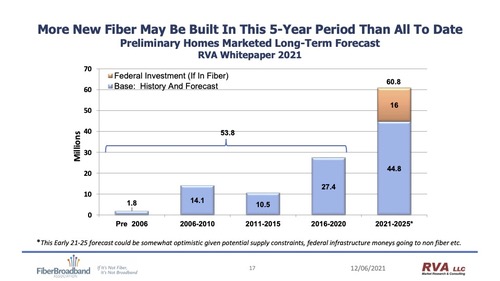 Those projections might be optimistic depending on how supply and labor issues work out, says RVA in the report. Its research suggests that supply constraints could be resolved over the next 12-16 months; however, workforce challenges may get worse.
Moreover, its projections through 2025 depend on all federal funding going to fiber broadband.
That hasn't been the case so far. Last year kicked off with grumblings from the fiber industry that the FCC's Rural Digital Opportunity Fund (RDOF) was awarding too much funding to unproven satellite and wireless technologies.
That was followed by a months-long industry battle with policymakers over how to define broadband in President Biden's infrastructure legislation, with the fiber industry pushing for 100/100 Mbit/s symmetrical speeds – which would prevent federal subsidies from going to slower, non-fiber technologies.
With that battle for legislative language ultimately won by lobbyists pushing for a "tech-neutral" broadband definition of 100/20 Mbit/s in the infrastructure law, the FBA and other fiber-focused industry groups have now set their sights on influencing the states, as well as federal agencies still creating rules around grant programs and subsidies.
---
On this episode of The Divide, FBA's Gary Bolton discusses how the organization is pivoting to ensure that federal broadband funds go to fiber providers.
---
On Friday, following the National Telecommunications and Information Administration (NTIA) issuing a call for public comments on its broadband grant programs funded through the infrastructure law, FBA CEO Gary Bolton said in a statement that the organization "has been preparing for months to provide comments on the $48B NTIA broadband infrastructure programs" and is "developing a Federal Funding Playbook that will help bring the critical fiber infrastructure to all Americans."
In a separate announcement from the feds on Friday, and in a quieter win for fiber deployments that is perhaps indicative of FBA's focused lobbying efforts, the US Treasury Department issued its Final Rule expanding the use of American Rescue Plan Act (ARPA) funds for broadband.
While the Interim Final Rule limited ARPA funding to projects "designed to provide service to unserved or underserved households or businesses, defined as those that lack access to a wireline connection capable of reliably delivering at least minimum speeds of 25 Mbps download and 3 Mbps upload," the Final Rule now "expands eligible areas for investment by requiring recipients to invest in projects designed to provide service to households and businesses with an identified need for additional broadband infrastructure investment," including "lack of access to a connection that reliably meets or exceeds symmetrical 100 Mbps download and upload speeds."
Related posts:
— Nicole Ferraro, site editor, Broadband World News; senior editor, global broadband coverage, Light Reading. Host of "The Divide" on the Light Reading Podcast.
(Homepage image source: Peter Titmuss / Alamy Stock Photo.)