High costs and poor service have driven 12 million US households to cut the cord on their home broadband and go full mobile.
That's the takeaway from new research published by Parks Associates, revealing that 15 million households are using mobile-only broadband, including 12 million that have canceled existing service and an additional 3 million that never subscribed to a home Internet service.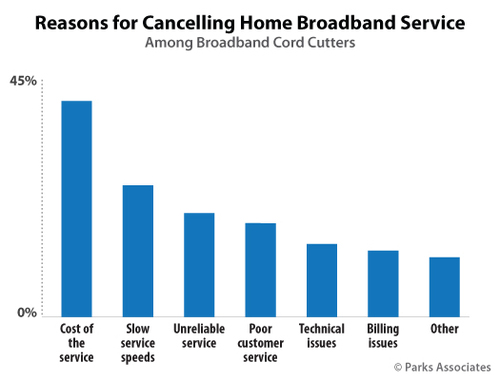 Among those who canceled their home Internet, high costs were cited as the main reason, followed by slow speeds and unreliable service.
The report recommends that service providers seek to improve at-home Wi-Fi coverage through smart Wi-Fi or mesh networking products, citing 75% of respondents who said they would stick with their home broadband service if it offered these options.
Parks Associates further points out that 94% of US broadband households use Wi-Fi at home and more than half of those say they have problems with that service. This is of course at a time when a significant portion of the country continues to work and learn from home: As of September 2020, Parks Associates' data put that number at 41%, making reliable service more essential.
The report says it's not all bad news for broadband service providers, with customer approval ratings improving between 2019 and 2020. But that won't be enough to stave off further customer losses without service improvements, Kristen Hanich, senior analyst, Parks Associates, said in a press release:
"Good performance during the COVID-19 crisis has improved customers' opinion of their service providers, but there were dips throughout the year, indicating that providers need to continue to deliver on customer service and innovate in value-added offerings in order to grow and maintain their subscriber base," she said.
— Nicole Ferraro, contributing editor, Light Reading