If 2019 was pretty much a year to forget for cable equipment suppliers, 2020 need not be all doom and gloom. (See Cable access network spending dropped 30% in 2019 – Dell'Oro.)
This is the view of Jeff Heynen, Dell'Oro's senior research director, who outlined some areas for cable-supplier optimism in a recent blog.
He argued, not unreasonably, that cable operators will have to invest more in uplink bandwidth or risk being elbowed aside by more widely available FTTH networks as they battle to win broadband customers. Think about growing demand online gaming and virtual reality, said Heynen, or even the basic need of uploading photos and videos to social media.
"Cable operators recognize that one of the liabilities they have with DOCSIS is its asymmetric design," he said.
The Dell'Oro man thought that tackling the limited "return path" would be "near the top" of many cable broadband operators' strategic initiatives for 2020. "With a growing number of telcos and ISPs now offering symmetric 1 Gbit/s services, cable operators are facing increasing pressure to expand their upstream capacity," insisted Heynen.
The good news for suppliers is that upstream upgrades will typically require significant changes to outside plant, including amplifiers and taps. And upgrades of this sort, implied Heynen, were overdue anyway. "[These] critical outside plant components are nearing the end of their lifespan over the next five years, after having served in broadband networks for the last 10-20 years," he said.
Other reasons to be cheerful
Heynen further pointed out that spending on Remote PHY equipment and virtual Converged Cable Access Platforms (vCCAP) both increased solidly in 2019. He noted that a growing number of operators began their long-term transition to distributed and virtualized architectures last year.
"That trend will only continue to ramp up over the next few years, as operators continue to modernize their networks to push fiber deeper, reduce MERs [modulation error rates] and reduce the overall costs of operating their broadband access and outside plant networks," he said. (See CommScope's Virtual CCAP Creeps Toward Reality.)
Another reassuring pattern, observed Heynen, was increased spending by US heavyweights Comcast and Charter on scalable infrastructure for each successive quarter in 2019. This trend apparently culminated in a return to a "normalized spending level" for the combined operators by the fourth quarter.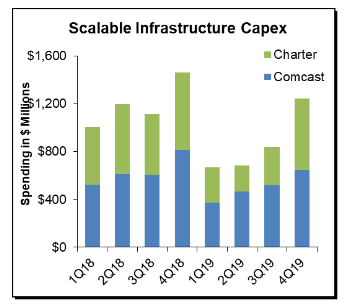 "2020 should see an improvement in spending by these operators, though again not to the levels seen in 2017 and 2018," said Heynen.
— Ken Wieland, contributing editor, special to Broadband World News