BBWN Bites: Smart Homes Pass the Halfway Mark
Also in today's fixed-access broadband roundup: It's cool to be connected, platforms are the foundation for smart homes, Watch acquires Indiana broadband provider, German operator quickly building a fiber-based business, WISPA likes Claude and more.
Most homes now have at least one connected device and 54% of homes have at least a smart speaker, interactive security system or smart thermostat, according to a new report by Strategy Analytics. The main reasons consumers buy these products: ease of use, convenience and making buyers feel secure, the research firm found.
After less than a decade as a commercial proposition, the smart home has already passed the tipping point. The fact that a majority of people have bought into the smart home shows that there is no going back – the smart home has become the normal home -- Bill Ablondi, director of Smart Home Strategies, Strategy Analytics
When consumers were asked what interested them most in smart homes, 34.6% said they "thought the tech was cool," one fifth said it would cut energy bills, 16.4% wanted improved security and 14.1% chose its convenience, according to a Smart Energy IP poll of 5,000 people. Service providers may want to keep those factors in mind.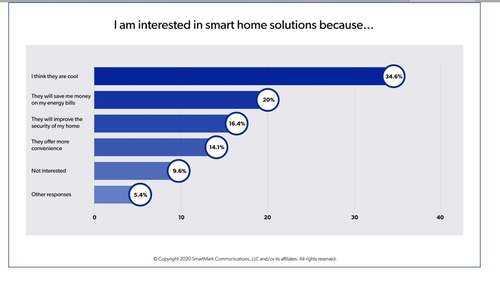 Platforms are quickly becoming the central nervous system and brain of smart homes and other IoT solutions, Brad Russell, research director for Connected Homes at Parks Associates, told CES 2020 attendees on Tuesday. Coordinating disparate devices is crucial, he said, as more households own more gear: 38% of US broadband homes owned a connected device by year-end 2019, up 19% from 12 months prior. Approximately 18% of these households own a home-control system, a 38% increase year-over-year, he said.
Watch Communications acquired Sit-CO, an Evansville, Ind.-based fiber and fixed wireless broadband provider serving rural areas of Southwestern Indiana. The purchase, for an unreleased amount, increases Watch's subscriber base by more than 2,200 residential and enterprise customers; Watch will continue offering the same services from Sit-CO's Evansville office, which will become the base of operation for Southern Indiana and Illinois as Watch expands offerings via the FCC's Connect America Fund (CAF II) program.
By year-end 2019, Deutsche Glasfaser had 630,000 fiber optic connections in more than 400 municipalities and 5,000-plus business customers, according to the German operator. Offering speeds of at least 300 Mbps for all its German fiber customers, it won more than €440 million ($444.6 million) in funding and grew to 650 employees, it said in a company blog.
The board of WISPA -- the Wireless Internet Service Providers Association, whose members include both mobile and fixed-access operators -- renewed the contract of president and CEO Claude Aiken until 2022. Aiken joined WISPA in this role in 2018 after almost 10 years at the FCC, preceded by senior positions at the Wireline Bureau and Office of General Counsel.
Fueling the content battles, TiVo added 23 new channels to the lineup of 26 free streaming channels currently available on TiVo+. The list of new channels is here. Related posts:

— Alison Diana, Editor, Broadband World News. Follow us on Twitter or @alisoncdiana. Like what you read: Sign up for our weekly newsletter.

(Home page art: CreativeArt on FreePik.com)
Here's where you can find episode links for 'The Divide,' Light Reading's podcast series featuring conversations with broadband providers and policymakers working to close the digital divide.
As we have for the past two years, Light Reading will present our Cable Next-Gen Europe conference as a free digital symposium on June 21.
Charter has sparked RDOF work in all 24 states where it won bids. The cable op booked about $19 million in RDOF revenues in Q1, and expects to have about $9 million per month come in over the next ten years.
As we have for the past two years, Light Reading will stage the Cable Next-Gen Technologies & Strategies conference as a free digital event over two half-days in mid-March.
Launch of 2-Gig and 5-Gig FTTP tiers in 70-plus markets puts more pressure on cable ops to enhance their existing DOCSIS 3.1 network or accelerate their upgrade activity centered on the new DOCSIS 4.0 specs.