BBWN Bites: Providers Spent $80B on Infrastructure in 2018 — USTelecom
Also today, CableLabs gets a new top R&D chief, Set TV is really dead and we have some broadband-related financial highlights from BT and Telecom Italia.
US broadband providers invested about $80 billion in network infrastructure last year, a $3.1 billion increase from the $76.9 billion they spent in 2017, according to a report released this week by USTelecom. Between 1996 and 2018, the broadband industry's capital investments total $1.7 trillion, the industry advocacy group found.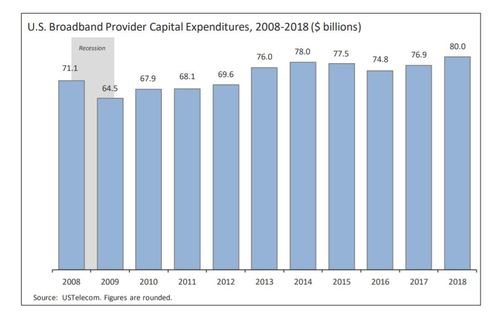 CableLabs has named Mariam Sorond as its Chief Research & Development Officer, reporting to President and CEO Phil McKinney. Sorond -- formerly chief wireless architect and VP, Technology Development, Dish Network -- will direct the execution and adoption of new technologies of CableLabs' members and the industry, working closely with McKinney on technical thought leadership, vision and strategy. She starts this role later in August.
Toss away those ST-110s: Alleged video piracy service Set TV has been buried. On July 31, a California court issued a judgement against Set Broadcast, which ran SetTVNow, ordering it to pay $7.65 million in damages and set a permanent injunction of the offering. The court also wrote a permanent injunction for operation and distribution of the ST-110, an $89 TV-connected streaming device that delivered OTT offerings of more than 500 channels for $20 per month. (See Set TV Is Now Really, Really Dead .)
BT's share price dropped more than 4% during Friday morning trading in London, after reporting declining sales in all major divisions, except Openreach networks business. BT said it will do its part to meet new Prime Minister Boris Johnson's plan to wrap the UK in full-fiber broadband if it's financially viable. Expanding BT's plan to reach the UK's 32 million homes and businesses by 2025 would require adding £30 billion ($36.3 billion) and 30,000 engineers, Reuters reported today. (See BT Decline Continues Despite 5G, Fiber Push.)
Telecom Italia posted a 4.4% revenue drop for the first half of 2019, to about €9 billion (US$10 billion), versus 12 months prior. TIM's fixed-line segment grew: Consumer ARPU increased 8.4% year-over-year and broadband rose more than 17.2% in 12 months. The combined number of retail and wholesale fiber customers increased 45% YoY to 6.3 million.
Cellcom of Israel completed co-investing in wholesaler Israeli Broadband (IBC) and sold independent fiber-optic infrastructure to IBC. Cellcom paid about $16 million for its stake in IBC. IBC paid approximately $51.5 million for the fiber infrastructure.
Related posts:
— Alison Diana, Editor, Broadband World News. Follow us on Twitter or @alisoncdiana.
Here's where you can find episode links for 'The Divide,' Light Reading's podcast series featuring conversations with broadband providers and policymakers working to close the digital divide.
As we have for the past two years, Light Reading will present our Cable Next-Gen Europe conference as a free digital symposium on June 21.
Charter has sparked RDOF work in all 24 states where it won bids. The cable op booked about $19 million in RDOF revenues in Q1, and expects to have about $9 million per month come in over the next ten years.
As we have for the past two years, Light Reading will stage the Cable Next-Gen Technologies & Strategies conference as a free digital event over two half-days in mid-March.
Launch of 2-Gig and 5-Gig FTTP tiers in 70-plus markets puts more pressure on cable ops to enhance their existing DOCSIS 3.1 network or accelerate their upgrade activity centered on the new DOCSIS 4.0 specs.