BBWN Bites: Nearly 1/3 of US Lacks High-Speed Broadband – Report
Also in today's roundup, SSE Enterprise Telecoms and Three UK wrap Oxford Street in fiber, Charter by the numbers, TIM and Vodafone discover the joys of sharing and more.
Almost one third of the US population -- or 100 million people -- don't have a broadband connection of at least 25Mbps, according to a report released today by The NPD Group. Most of the 31% without this access are rural residents, the research found. North Dakota fared worst, with penetration of only 20% to 29%, according to NPD. Neighbor South Dakota, as well as Mississippi and Alabama, also were under-served at between 30% and 39% broadband penetration, the research firm said. Despite operators' growing deployment of gigabit speeds and their investment in fiber, DOCSIS 3.1 and copper-based Gfast solutions, only five states attained 80% or more coverage, according to NPD.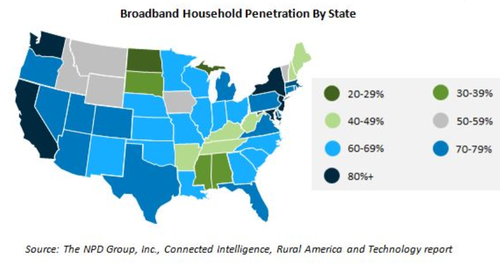 SSE Enterprise Telecoms will deploy a fiber backhaul testbed in London's busy shopping district, Oxford Street, designed to empower mobile operator Three UK to debut its 5G-based home broadband service in August. Connectivity, co-location and infrastructure provider SSE Enterprise Telecoms is perhaps best-known for its use of London's waste-water network for much of its fiber ring. (See SSE Telecom to Provide Three UK Fiber Backhaul in London's Oxford Street.)
In its second quarter 2019, Charter Communications earned adjusted EBITDA of $4.2 billion, a 3% uptick year-over-year. Its residential customer base grew about 164,000 compared with the 12-month-prior period's addition of 141,000 new residential customers. Charter added 221,000 residential Internet customers Q2 2019 versus 2Q 2018 residential Internet customer net additions of 218,000. By June 30, 2019, Charter had 24.2 million residential Internet customers; almost 85% subscribed to tiers with speeds of 100 Mbps or more. Home-video subs fell 150,000 in this period versus 2Q 2018's drop of 73,000. At the end of Q2 2019, Charter had 15.8 million residential video customers.
TIM and Vodafone expanded their current network-sharing partnership, allowing them to cooperate as they each upgrade existing fiber networks for 5G mobile backhaul. This agreement should expand Vodafone's 5G geographic reach at less cost and generate at least €800 million apiece over the next decade, both operators said in a joint release.
London and New York are the world's top two Smart Cities, followed by Amsterdam, Paris and Reykjavík, according to 2019 Cities in Motion Index by IESE Business School. For the sixth year, the index uses multiple factors such as technology, mobility, environment, economy, governance, transportation and international outreach to generate scores; this year, the Index ranks 174 cities worldwide.
UK satellite component and ground systems maker Cobham, which supplies broadband-satellite providers such as SpaceX and OneWeb, is prepping to accept a £4 billion ($4.6 billion) buyout that would take it public. The board voted unanimously in favor of an offer from Advent International for £1.65 per share, the price its stock closed at on the London Stock Exchange today -- a 35% increase on news of the proposed purchase. At least 75% of Cobham's shareholders must approve the deal -- but the largest reportedly do not, according to Bloomberg.
Channels, maker of a DVR that records OTT and live TV, on Thursday launched the public beta of a feature that allows users to log in with existing TV-provider account info to add channels via TV Everywhere.
National Cable Television Cooperative (NCTC) appointed Rob Smith as senior director of procurement. Smith, who spent the last nine years at CenturyLink -- where he most recently oversaw almost $1.5 billion-worth of spending on hardware, software and services -- will be responsible for "shaping NCTC's procurement strategy and will work with NCTC's supplier partners on group purchasing initiatives for member companies," according to the organization, which represents 75-plus small and midsize independent US cable and broadband operators.
Related posts:
— Alison Diana, Editor, Broadband World News. Follow us on Twitter or @alisoncdiana.
Here's where you can find episode links for 'The Divide,' Light Reading's podcast series featuring conversations with broadband providers and policymakers working to close the digital divide.
As we have for the past two years, Light Reading will present our Cable Next-Gen Europe conference as a free digital symposium on June 21.
Charter has sparked RDOF work in all 24 states where it won bids. The cable op booked about $19 million in RDOF revenues in Q1, and expects to have about $9 million per month come in over the next ten years.
As we have for the past two years, Light Reading will stage the Cable Next-Gen Technologies & Strategies conference as a free digital event over two half-days in mid-March.
Launch of 2-Gig and 5-Gig FTTP tiers in 70-plus markets puts more pressure on cable ops to enhance their existing DOCSIS 3.1 network or accelerate their upgrade activity centered on the new DOCSIS 4.0 specs.