Led by gains of 1.38 million subs by cable operators that offset a small loss from domestic telcos, US broadband service providers combined to add 1.32 million subscribers in Q3 2020, up from net adds of 947,000 a year ago, according to a new report form MoffettNathanson analyst Craig Moffett.
According to the report, the US broadband market finished Q3 2020 with a penetration rate of 84%. Thanks to US cable's continued strong showing, the 4.7% growth rate for the entire domestic broadband industry in the quarter was the fastest in about a decade, Moffett noted.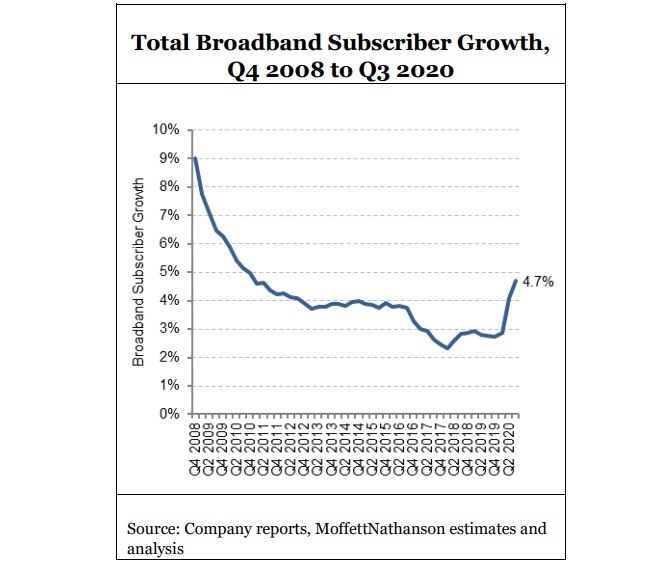 However, the "pull-forward" growth driven by the ongoing pandemic will likely lead to a subscriber growth slowdown in 2021, Moffett predicts.
Moffett now expects Comcast to add 1.17 million broadband subs in 2021, down from a prior estimate of 1.37 million.
Charter Communications is anticipated to add 1.1 million broadband subs in 2021, versus a prior expectation of 1.27 million. Charter's 2021 forecast includes the operator's expansion coming way of the phase I results of the Rural Digital Opportunity Fund (RDOF) auction.
Among smaller cable ops in Moffett's coverage, Altice USA is expected to add 91,000 broadband subs in 2021 (compared to prior expectations of 110,00), with Cable One/Sparklight adding 29,000 next year (versus an earlier forecast of 38,000).
"[T]he odds do appear to favor a significant deceleration in broadband growth rates. Said differently, it is likely that 2020 was largely a pull-forward year," Moffett wrote
For a deeper dive into Moffett's latest report, including his take on what's driven subscriber growth so far in 2020 and what impact the uncertain regulatory landscape could have on the broadband market in 2021, please see this story on Light Reading: Cable broadband sub growth to slow in 2021 – analyst.
— Jeff Baumgartner, Senior Editor, Light Reading, special to Broadband World News