US cable operators have pulled down the lion's share of new broadband customers during the pandemic paired with a spike in the rate of broadband subscriber growth. But general consumer demand for connectivity is just one reason for the surge, according to Craig Moffett, analyst with MoffettNathanson.
"Cable is, in short, a COVID winner," Craig Moffett, analyst with MoffettNathanson, explained in a fresh analysis (registration required) of the US broadband industry for Q2 2020. "But it's a little more complicated than that."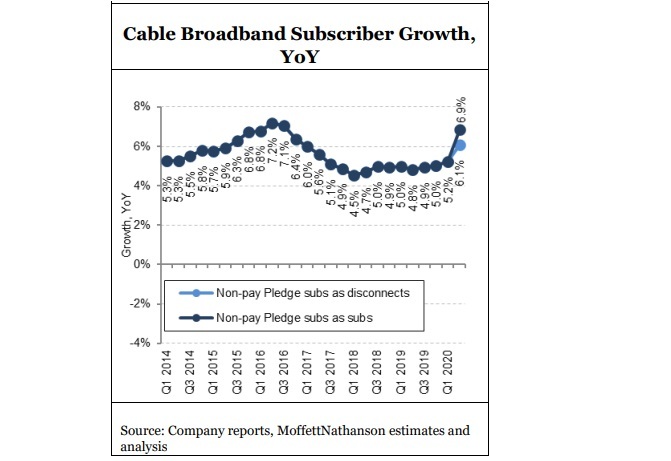 Among the short-term contributors, new household formation has been "extraordinarily high," with an implied formation of about 2.3 million new households in the quarter, according to an estimate from Moffett that includes data from the US Census Bureau.
Meanwhile, Moffett also found that cable operators have accelerated their footprint expansions through network "edge-outs" – an expansion of their networks into adjacent rural markets.
"Faced with a seemingly inevitable pull-back in new household formation, cable operators have begun to look inward. Or, if you prefer, outward… to the edges of their networks," Moffett wrote. "Cable operators are quietly accelerating homes passed."
According to Moffett's analysis, the top four publicly traded US cable operators – Charter Communications, Comcast, Altice USA and Cable One – have, with the aid of edge-out projects, been expanding their overall homes-passed footprint: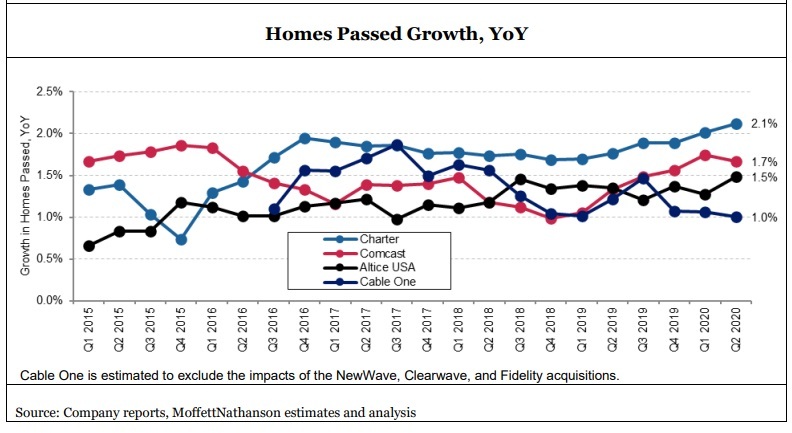 For more on Moffett's Q2 report on industry broadband trends, including indicators that US cable operators will be major players in all rural broadband buildouts going forward, please see this story at Light Reading: Footprint expansions boost cable's broadband growth.)
— Jeff Baumgartner, Senior Editor, Light Reading, special to Broadband World News