Despite a surge in upstream usage fueled by the increased adoption of apps such as videoconferencing, overall data demands dropped in the second quarter of 2020 but still stayed ahead of pre-pandemic levels, according to a new report from OpenVault.
Per the company's Q2 2020 OpenVault Broadband Insights (OVBI) study, which tabulates and analyzes data from US and European networks, upstream consumption ticked up 5.3% in the period, though overall usage dropped 5.5% compared to Q1 2020 levels. Upstream consumption is now up 56% through the first half of 2020 compared to the year-ago period.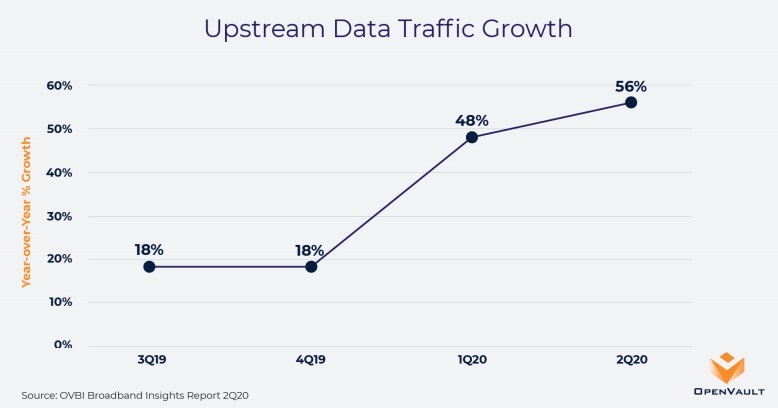 Total average usage in Q2 2020 dropped from 402 gigabytes to 380 GB in Q1 2020, but it was still up 36% from an average of 280 GB in Q2 2019, said OpenVault. Additionally, in the "power user" category, the number of broadband subs gobbling down at least 1 terabyte of data in a month dropped 13% in Q2 2020 versus Q1 2020.
Surge among subs on usage-based plans
However, consumption by broadband customers on usage-based billing plans surged 42% year-over-year – from 262.9 GB to 372 GB. OpenVault attributed that in part to the temporary relaxation of data caps and other usage-based policies during the earlier stages of the pandemic (some service providers, such as Comcast and Cable One, recently restored data usage policies with higher monthly data limits).
The report also found that demand for faster data tiers has been on the rise, thanks in part to a mix of complementary speed upgrades and the aforementioned temporary halt of usage-based data policies.
That scenario has seen an increase in consumers taking 1-Gig tiers, as the report found that nearly 5% of subs now get connections of 1 Gbit/s or more, up 133% year-over-year, and up 75% in the last six months alone. Some 61% of all customers covered by the report now get speeds of 100 Mbit/s or more, a one-year increase of 27%.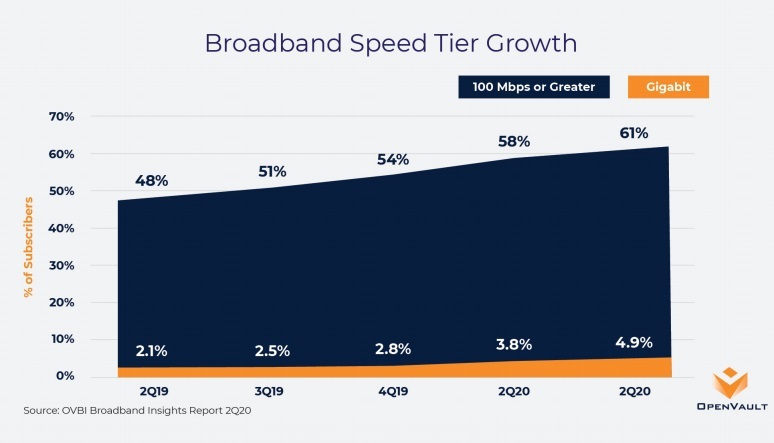 The general trend through the first half of the year shows that demand for upstream-intensive applications remains strong. US cable operators have been trying to stay ahead of the curve through a mix of methods, including the use of AI-assisted technologies that deliver more bandwidth efficiency, capacity purchases and node splits and the start of longer-term projects that will expand the amount of spectrum dedicated to the upstream.
"Yes, overall usage eased in the second quarter, but nothing is forever in this pandemic," Mark Trudeau, CEO of OpenVault, said in a statement. "The persistent pressure on upstream plant and the migration of subscribers to faster tiers, not to mention the unknowns of distance learning, remote businesses and emerging COVID hotspots – these are all flashing signals that higher consumption levels lie ahead."
Related posts:

— Jeff Baumgartner, Senior Editor, Light Reading