Viasat said consumer subscriber growth for fixed satellite broadband services was flat in fiscal Q3, but the average revenue per user (ARPU) climbed to record levels as customers opted for faster, higher-priced service tiers.
ARPU for Viasat's US fixed broadband service jumped 15% in the quarter to $89.71, driven in part by new speed tiers powered by ViaSat-2, a high-capacity geosynchronous earth orbit (GEO) satellite that the company launched in June 2017 and deemed ready for service in February 2018. Viasat's top-end residential tier delivers up to 100 Mbit/s downstream but just 3 Mbit/s up.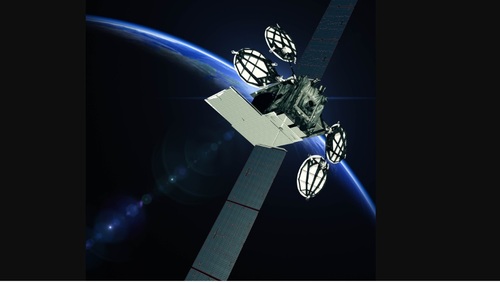 For the US fixed market, Viasat has "consistently emphasized ARPU growth over subscriber count with ViaSat-2. That's worked really well," Mark Dankberg, Viasat's chairman and CEO, said Thursday on the company's earnings call, per a Seeking Alpha transcript. "The approximate cash benefit to-date of this strategy compared to a constant ARPU higher sub count approach is already in the range of a couple of hundred million dollars."
Dankberg likewise warned industry-watchers not to "misinterpret" flatish subscriber counts to mean the addressable satellite broadband market is small or saturated. "We think the opposite," he said.
Viasat will continue to press that idea with the coming launches of ViaSat-3, a set of GEO satellites that will provide global coverage. "Flight 1" of ViaSat-3 will cover the Americas, while Flight 2 will cover Europe, Middle East and Africa, and Flight 3 will cover the Asia/Pacific region.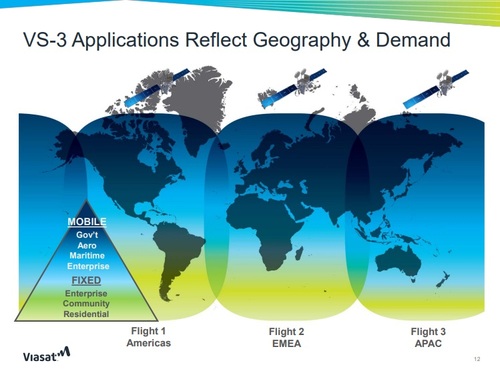 The development of all three ViaSat-3 satellites is "in full swing," Dankberg said, noting that Viasat aims to deliver the first payload module to Boeing by this fall and move toward an anticipated mid-2021 launch date for the first ViaSat-3 bird, which will cover the Americas.
Viasat intends to use this new constellation to drive a multitude of mobile and fixed use cases as well as services spanning both business and residential customers. Of note, Viasat believes this new fleet and its capabilities could enable the company to go after the legacy DSL subscriber base more aggressively, especially as consumers increasingly use over-the-top for video services.
"We believe we can compete well for streaming video among the underserved," Dankberg said.
He also believes that Viasat's strategy around GEO satellites has certain advantages over the multitude of low-earth orbit (LEO) broadband satellites being developed and launched by companies such as SpaceX's Starlink.
While GEOs have latency challenges for applications such as online gaming, they will still pack plenty of bandwidth, enough to put Viasat in position to target a market of millions of DSL customers that are in need of more speed.
"Our position has been pretty consistent," Dankberg said. "If you have enough bandwidth, latency is really important. If you don't have enough bandwidth, then latency isn't as important because you have congestion and other effects that mask latency."
Viasat's broadband service for airlines is also building, as the company notched a 23% year-on-year increase of "tails" in service.
Viasat, which recently struck a deal with fuboTV to provide in-flight OTT-TV services, ended the period with a tailcount of 1,379 aircraft, excluding about 90 Boeing 737 MAX planes that Viasat has enabled for broadband but remain grounded. Viasat expects a full fiscal 2020 earnings impact of about $10 million due to those groundings, and believes those pressures are likely to carry into its fiscal 2021.
Related posts:

— Jeff Baumgartner, Senior Editor, Light Reading