Piracy is on the uptick, thanks to the fragmented streaming market and more widely available access to high-speed broadband.
Whereas subscribers once could see their favorite shows on one or two leading services, such as Netflix and Hulu, viewers increasingly must pay monthly fees to more and more services simply to watch their favorite series. That's because the original content producers -- such as NBC with Friends or Disney with Hannah Montana -- have clawed back their TV shows and become their own streamers. Add in specialty subjects like sports, home remodeling and travel, along with movie-focused channels, and is it any wonder consumers are confused and annoyed at the number of services and fees they face?
Even though the US leads the fray in SVoD overload, the US is also one of the richest countries and has a legal and cultural heritage of -- generally -- honoring copyright laws. SVoD piracy is a global phenomenon, one that most likely will worsen as more streaming services and more existing and new content becomes available worldwide. Most content is created in the US, and international markets may pirate content in order to see new videos earlier than via authorized distribution deals, said Cam Cullen, vice president of global marketing at network intelligence company Sandvine.
"Netflix aggregated content and made piracy reduce worldwide. With the ongoing fragmentation of the video market, and increase in attractive original content, piracy is on the rise again," Cullen wrote in a recent blog. "File sharing is one method that is regaining popularityÖ and we expect to see this continue."
Tools like BitTorrent are popular with people who illegally access content. BitTorrent can be used to legally download large files but is frequently used to get copyrighted materials such as movies, which take up lots of bandwidth.
Back to BitTorrent
File sharing at one time represented a large chunk of upstream traffic in America. Netflix changed that: Apparently most subscribers believed the fees were fair for the content they received, and the desire to pirate video dropped exponentially, according to Sandvine data.
File sharing represented 30% of upstream traffic in America, Sandvine reported this month. Last year, file sharing accounted for 22% of upstream bandwidth consumption, Cullen wrote.
This reverses a downward trend the industry has been seeing in America, where file sharing usage as a percent of traffic had been dropping. In 2011, for example, BitTorrent represented almost 56% of America's upstream traffic, said Cullen. Four years later, only 27% of America's upstream traffic was based on file sharing, he said.
Had the trend continued along these lines, by 2018 and 2019 file sharing should have been a mere smidgen of upstream traffic -- not almost one third and growing back toward the size it was in pre-Netflix days, Cullen said.
More choices, more incentive to steal
The UK, which has fewer streaming options today, expects piracy to rise along with the number of SVoD providers, according to a survey published Friday by BroadbandGenie, a broadband comparison site.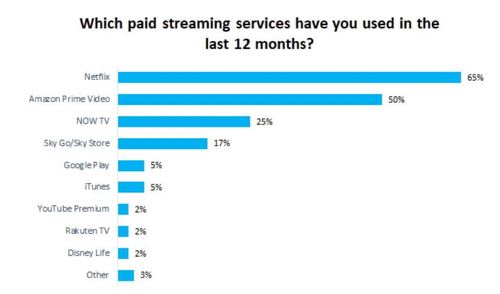 Unlike their US counterparts, UK streamers cannot get HBO Max, BritBox and Hulu today. Some -- Apple TV+ (November), Disney+ (2020) and BritBox (no date yet) are on their way -- and most pundits predict US-only services like HBO Max, Hulu and NBC Peacock will eventually cross the pond.
Even though UK subs have much more limited options today, already, 18% of respondents say they access video content via "unauthorized streaming sites or file sharing services," the Broadband Genie survey said. As more content, accessible via more streaming services arrives, those polled admit their tendency to pirate will grow, too: In fact, 37% said they would consider file sharing or illegal streaming sites, the report found.
Going a step further, 60% of those who would consider pirating video may acquire a VPN to hide their IP address, the poll found.
People will pay for the most important services, Broadband Genie wrote, but not for those they don't perceive add much value. The main problem subscribers have with this fragmented SVoD market is cost, according to 48% of those polled. The second biggest concern is having to use multiple apps, while the third complaint was not knowing where to find a certain film or TV show.
Or the flood of SVoD platforms and players and array of old and new content may generate new opportunities for operators to aggregate and organize content.
Related posts:
— Alison Diana, Editor, Broadband World News. Follow us on Twitter or @alisoncdiana.