Lack of broadband access will cost the 6.3 million electric co-op members without Internet connections almost $70 billion over two decades in lost economic value, according to research released this week by the National Rural Electric Cooperative Association (NRECA).
While it would seemingly have a bias toward co-ops and their members, NRECA uses what appears to be a realistic $1,950 figure to represent the value gained by households with broadband access, the research found. Applying this value to the 6.3 million electric co-op households -- or 13.4 million people -- without broadband, the study finds a total lost value of $68.2 billion to co-operative members nationwide.
"High-speed broadband is essential infrastructure for modern life. Unfortunately, broadband access and adoption are not ubiquitous,Ē said Russell Tucker, NRECA chief economist and lead author of "Unlocking the Value of Broadband for Co-op Consumer Members." "The digital divide is real, and many Americans remain without adequate broadband service."
By comparison, the cost to
deliver
or expand broadband to unserved regions of the US would be $40 billion, the report estimates.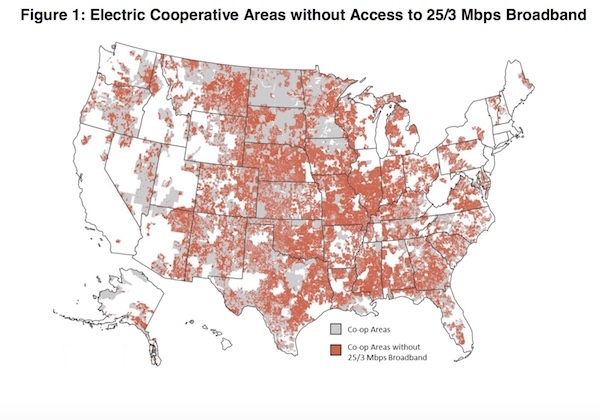 With access to broadband -- particularly high-speed broadband of 100 Mbit/s to 1 Gbit/s currently propagating metro and many suburban regions by cable operators, telcos and ISPs -- rural residents could further their education (and career opportunities), work remotely and add more to the economy via online purchasing, for example, NRECA wrote. This study did not, however, dive into the additional or missed economic value lack of broadband prevents.
NRECA does not seek what industry considers high-speed connectivity. Rather, it has limited itself to the government definition of fixed broadband: 25 Mbit/s downstream, 3 Mbit/s upstream (but not the government's wireless definition of 10 Mbit/s down and 3 Mbit/s up). If the US is to invest in rural broadband -- as it should -- then it must invest in infrastructure and speed capable of supporting 5G, Internet of Things and whatever the results of 5G actually are -- the 5G-gen versions of, for example, Uber, Airbnb and food delivery industry.
No money, no returns?
Commercial carriers rightly say they cannot support regions where households are two-to-a-mile: Digging fiber is the biggest cost of any fiber-to-the-premise deployment. How on earth could a private company afford to lay fiber down country lanes to homes that may solely buy Internet connectivity? How could it aerially reach all those poles?
In conjunction with NRCEA, in June 2018 Ericsson estimated it would cost about $21,000 per mile to lay fiber in the rural, scarcely populated regions typically served by electric co-ops. Reportedly, co-ops incorporate 1.9 million miles of non-fiber-filled roads, and the FCC estimates it will cost taxpayers about $40 billion to roll out fiber to "the majority" of underserved US regions to attain 98% coverage of high-speed broadband, NRECA wrote.
The cost of not connecting means the death of rural America. That might not matter to some people. But when we import all our corn, beef, lumber and that legal marijuana, it may become an issue. As the government, entrepreneurs and nature lovers wish to spend leisure time or earn money from remote parks, exotic natural habitat and creatures, an inability to hire employees because there's nowhere for their spouse to work and no way to connect with friends and family or a place for their kids to learn, well, then all that lack of caring suddenly may matter.
Coming from a rural area of England, I have a definite bias toward country folk. I am one at heart, despite being uprooted and relocated to suburbia (and not by choice). The only co-op experience I had was with, literally,
The Coop
-- a supermarket in hideous shades of white and brilliant 1970s turquoise -- that dominated Stockport, in part due to its handing out of stamps (like America's green stamps, I suppose). It was heartwarming to hear an analyst over there, a vendor bigwig over there, a journalist, an exec from a much larger service providerÖ each of them sharing tales about growing up as a co-op member. And most heartwarming of all was to hear the emotion in co-op executives' voices as they shared what they do and what it means to their members.
"We know, since we launched, we have either generated or saved over 1,000 jobs by the launching of this enterprise. We are about to connect our first industrial customer with a 10-gig connection," said Steve Foshee, CEO of Tombigbee Electric Coop, which last month was one of several electric co-ops that announced it chose ADTRAN access solutions and FiberRise engineering services to deliver gigabit broadband to its customers. (See ADTRAN Plows Resources Into Serving Rural Coops.)
Time to plug in-country customers
As Broadband World News wrote yesterday, new technologies seemingly perfect for rural customers are on the way -- and will be on the market shortly. In this case, it's AT&T AirGig Project, which works along (but not through) power lines. (See AT&T AirGig Project Powers from Strength to Strength.)
Sprint, too, sees rural broadband as an area "ripe for disruption," as Chief Technology Officer John Saw told me a couple of times. Now, if the merger with T-Mobile goes through, it makes things easier -- in logistics, in technological complements such as spectrum, fiber and mmWave -- but donít count out Sprint if it's still flying solo. (See Sprint CTO: Rural Ripe for Disruption With Fixed Wireless and Sprint CTO: On Fiber, 5G & the Future.)
Vendors, too, are working hard with providers across the entire stratosphere. During ADTRAN Connect, one of the liveliest panels (and they were all lively) featured four electric co-op executives who discussed the many challenges they face and how they go about ensuring their customers -- no, their members -- get the same level of service as someone in Manhattan or Los Angeles. Likewise, during a recent conversation with Calix CEO Carl Russo, he stressed the value and importance of co-ops, as well as municipalities and utilities, to reach rural areas, as well as invest in smart cities and smart suburbs.
For its part, Microsoft appears to be gaining some traction with white spaces broadband and fixed wireless access is garnering growing interest. Satellite capabilities continue to expand. Plus Facebook and Nokia are melding fiber and wireless to create a broadband solution built on Terragraph mesh routing and multi-hop technology, and Nokia's wireless passive optical network or WPON, for a resultant wireless gig drop to the home for broadband access networks, said Stefaan Vanhastel, who heads Nokia's Fixed Wireless marketing, in an interview with BBWN last year.
One thing is clear in the morass of rural broadband: While the federal government continues to fund initiatives such as Connect America Fund Phase II (CAF II) and has added more stringent monitoring to ensure dollars go toward the very projects, programs and people for which they're intended, speed is rare in government programs -- but speed is part of what makes technology so useful. It doesn't stand still. It never rests on its laurels. It's always seeking improvement.
I, like perhaps many others, fear well-meaning individuals will continue sending a lot of money from hardworking, tax-paying people to equally well-intentioned organizations that are not knowledgeable about rural life and country ways. Instead, perhaps we should consider sending more funds to those electric co-ops already providing power to residents and businesses, from SOHOs to enterprises. With more vendors offering professional services and more traditional systems integrators well-versed in communications networks, seems opportunities abound for partnerships in parts of the country where, in the old days at least, a person's word was his bond and a handshake sealed a deal.
Related posts:
— Alison Diana, Editor, Broadband World News. Follow us on Twitter or @alisoncdiana.