With the worldwide spread of COVID-19, we're facing unprecedented circumstances. The pandemic is forcing us to restructure education, businesses and the global economy entirely. As we practice social distancing and self-quarantine, the only way to maintain a semblance of normalcy is to connect online. And that is only possible with the correct devices and the most reliable broadband at home.
Our new culture of remote connectivity exposes, more than ever, the need for increased capacity. As more and more institutions move work and school online, we have started to see older networks strain to support the massive amounts of traffic. With everyone working and learning from home all at once on a DSL or satellite network, the amount of available bandwidth becomes a huge concern.
Consider all of the connected devices in a home – smartwatches, tablets, smartphones, baby monitors, smart doorbells, smart fridges, home assistants, connected TVs, Wi-Fi enabled washers and dryers, and smart speakers. Now layer those with the bandwidth-hungry applications that remote work and distance learning require during this COVID-19 crisis. Our recent research shows that the average US household could require as much as 100 Mbit/s of bandwidth: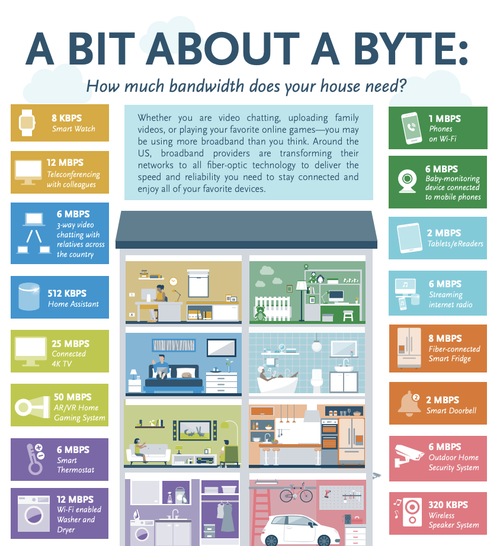 The rapid move of schools and workplaces online is placing customers in the position of asking for fiber capacity, says Katie Espeseth of EPB, a Chattanooga-based ISP. "Fiber optic networks offer tremendous network capacity and quality that's perfect for working from home," she said. "During this crisis, we've seen an uptick in products ranging from teleworker seats which combine internet and hosted phone to requests for 10 Gbit/s services to serve large scale enterprises. Thanks to Chattanooga's fiber-optic network, we're ready and able to meet those demands when our community needs us."
Mississippi-based C Spire also sees a fundamental role for fiber broadband in the crisis. "Our C Spire Home service, based on the Gigabit speed fiber-based connection, will help students do coursework from home and individuals to work remotely," said C Spire President and CEO Hu Meena.
Fiber broadband is the best technology to support our increased connectivity needs, offering the fastest, most reliable connection that enables us to get online from home. And while fiber broadband ensures that enough bandwidth is available, the coronavirus also draws attention to the many Americans who do not have access to fiber broadband at home. We have to acknowledge that, for many, connectivity is sadly a "digital luxury," particularly in some rural and low-income communities. The current state of public health is now making digital connectivity essential, bringing to light our worst fears for communities that lack reliable home broadband.
School districts face difficult choices when transitioning to virtual learning since many students are unable to get online at home. For instance, across the river from me in Prince George's County, Maryland, the district was unable to shift classes online since many of the 136,000 students did not have broadband access at home. With Maryland schools closed for two weeks, teachers put together paper packets of worksheets instead. The homework gap is playing out right before us and is having real consequences for students.
This crisis demonstrates a need for infrastructure that can ensure that all students and all employees are able to get online. Fiber broadband not only provides fast internet speeds and greater bandwidth, it also future-proofs networks for emergencies like this. We need to reassess our networks, find ways to deploy more all-fiber broadband to connect all Americans, and close the digital divide and address the homework gap for good.
— Lisa R. Youngers is President and CEO of the Fiber Broadband Association (FBA), the only all-fiber trade association in the Americas. Follow them on Twitter @fiberbroadband.