UK mobile challenger Three has spiced up the British broadband market with plans to launch a 5G fixed wireless access (FWA) service in London this August as part of a broader rollout that will involve the launch of mobile 5G services as well as FWA broadband in 25 cities across the UK by the end of 2019.
The operator, which has focused on attractively-priced mobile data services since its inception in 2003 (the early years of 3G), is seeking to make the most of its 5G spectrum assets, plus in-house experience gained from UK Broadband, a fixed wireless access startup that Three acquired from PCCW for about £250 million ($317.33 million) in mid-2017. That deal didn't give Three much in the way of customers or revenues, but it gained a great deal of mid-band spectrum in the 3.4-3.6GHz band.
Now the operator plans to use that spectrum, plus the airwaves it picked up in the UK's 5G auction, to attract new customers and capitalize on the lack of FTTH services across the UK: While there may be plenty of talk about what's going to happen in years to come in terms of fiber being built out to homes across the UK, right now there's not a lot in the ground and Three believes it can offer a compelling service that combines fast broadband speeds with affordable prices. The operator says it has 140MHz of 5G spectrum to utilize -- including a contiguous block of 100MHz -- which is far more than its rivals, namely Vodafone (50MHz of spectrum), EE (40MHz) and O2 (40MHz).
So how fast will this home broadband service be? It's not saying just yet: Tests are still ongoing and more details will be available nearer the time of the launch. Pricing will be made available in August, but prices for the handsets it will offer as part of its 5G mobile service packages will be published in July. See the operator's press release for the list of the 25 cities where services will be launched this year.
The initial FWA service will be pitched at residential users and will be provisioned using a plug-and-play home hub (no engineer visit needed, the operator claims) developed by the name on everyone's lips right now, Huawei Technologies. The Chinese vendor is also the supplier of the radio access network gear that will deliver the 5G signal to the hub.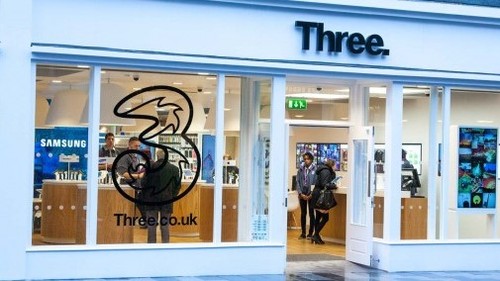 Behind the access network is a cloud-oriented core network platform sourced from Nokia. That deployment is part of Three's broader cloud-based platform migration that the operator knows will be essential to cope with the demands of data traffic volumes that 5G service uptake (including IoT traffic) is expected to generate.
That Three is going down this route will come as no surprise to anyone following the UK broadband market. The company has long talked of its FWA ambitions and recently talked about how it has been building up its network and capabilities in an interview with Light Reading. (See Three UK to Go Big on 5G for Home Broadband and Three's Broadband 'Toy' Gets Set for 5G Push.)
From those interviews, it seems residents in the London borough of Camden might be in line for some initial offers, but the company isn't providing details on exactly where in the UK metropolis the service will be launched in August.
Once the details of the advertised speeds and prices are published, the UK's fixed line ISPs will be able to figure out exactly how worried they should be -- Three is known for decent marketing and pricing that suits its target market and plug-and-play home broadband without a line rental fee will be attractive to many.
— Ray Le Maistre, Editor-in-Chief, Light Reading, special to Broadband World News