FRANKFURT -- Ultra-Broadband Forum 2016 -- Danish telco TDC is morphing into a fully fledged cable company as it approaches a target of covering its entire cable footprint with DOCSIS 3.1 technology by the end of 2017, according to Carsten Bryder, the company's chief technology officer.
The operator maintains four different access technologies -- copper, coax, fiber and mobile -- but has seen the proportion of revenues generated from cable offerings continue to grow, as other parts of its business remain under pressure.
TDC A/S (Copenhagen: TDC) unveiled plans for the DOCSIS 3.1 upgrade earlier this year and says the technology will allow it to provide 1Gbit/s services to about 1.3 million homes, or half the Danish total, by the end of 2017. (See TDC Targets Enterprise Market With Its Gigabit Upgrade.)
TDC's existing DOCSIS 3.0 network supports downstream services of about 300Mbit/s.
Other end-2017 targets include providing 100Mbit/s services to 70% of homes using DSL technology and ensuring that all consumers can access a 10Mbit/s service over a mobile connection.
Speaking at Huawei Technologies Co. Ltd. 's Ultra-Broadband Forum in Frankfurt earlier today, Bryder said the network upgrades remained on track and would help TDC to cope with soaring demand for higher-speed services as well as new market developments, including the emergence of on-demand TV offerings.
"In Demark, there will be more on-demand TV than linear TV in 2020 and we also see that OTT [over-the-top] players are becoming more and more successful, which means a strong network strategy is key," he told conference attendees. "We need strong networks to cope with challenges."
What makes the DOCSIS 3.1 upgrade particularly interesting is that TDC believes it can deploy the technology without having to increase current investment levels. Embarking on a widespread rollout of fiber instead would cost about eight times as much as the DOCSIS 3.1 upgrade, according to Bryder.
"This is a very cost-efficient way of providing gigabit speeds," he said. "We can use existing infrastructure and swap intelligent equipment. That will lead to lower opex, fewer faults and a better customer experience all at the same time."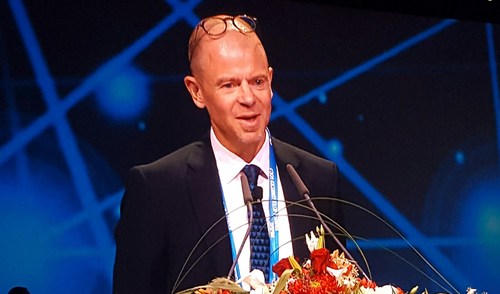 Working with China's Huawei on the upgrade, TDC expects to have swapped out about 2.7 million pieces of network equipment by the time it has finished. "We are doing this in a way that allows our [vendor] partner to manage capacity in a six-year period going forward," said Bryder. "This is about building services rather than just moving boxes."
Perhaps the biggest challenge for TDC has been the need to maintain multiple access technologies at more than 50% of Danish households. TDC is looking to shut down various network facilities as part of its transformation project.
"We have been working to make sure we can provide the household with best solution possible and close down the part of the network we are not going to invest in anymore," said Bryder. "This is what we are in the middle of right now."
— Iain Morris,

, News Editor, Light Reading