At a virtual event hosted by the Federal Communications Commission this morning, FCC Commissioner Geoffrey Starks was joined by Black leaders from state and local government to discuss how federal funding can best be spent to close the digital divide in Black communities across the US.
In prerecorded opening remarks, Rep. James Clyburn (D-SC), who was instrumental in crafting broadband legislation for the bipartisan infrastructure law (BIL), noted two separate studies that highlight the disproportionate impact of the digital divide on Black people in the US: one from the Joint Center showing that 38% of households in the Black rural South lack broadband; and one from Pew revealing that 29% of Black adults lack home broadband access.
That impact has ripple effects beyond one's ability to get online at home.
"When families are caught in the digital divide, it makes the other divides in our lives wider," said Rep. Clyburn. "Without reliable broadband connections, households struggle to benefit from telehealth, modern education and 21st century employment."
To that end, added Clyburn, the now-enacted broadband legislation offers "a comprehensive, three-pronged approach that invests in high-speed access, affordability and adoption to close the digital divide." Further, he said, the legislation recognizes that addressing affordability and adoption is just as crucial as building broadband infrastructure.
---
On this episode of The Divide, Dr. Dominique Harrison shares results from the Joint Center's research on broadband access in the Black Rural South.
---
Discussing specific federal programs that will make a difference, Commerce Secretary Gina Raimondo referenced the $3 billion Digital Equity Act – one element of the $48 billion loan programs being managed by the National Telecommunications and Information Administration (NTIA), "which can be used to promote digital inclusion and equity for communities that don't have what they need to take advantage of broadband connections."
Raimondo also said the NTIA has received more than 200 applications for its $268 million Connecting Minority Communities pilot program, an effort the agency kicked off in June to provide broadband funding to eligible institutions, including HBCUs.
"We're working quickly to get the money out the door in the next few months," said Raimondo.
Speaking to another program mandated by the BIL broadband legislation, FCC Chairwoman Jessica Rosenworcel confirmed in her opening remarks that the commission will issue a draft notice this week to begin addressing digital redlining in the US, including "what it looks like, what it means, how we define it and how we fix it."
"Stay tuned, because this matters," said Rosenworcel.
A rural and urban issue
Following the opening remarks, a panel of Black local leaders shared further details about the digital divide in the communities they serve and what they need out of federal grant processes and programs to successfully connect them.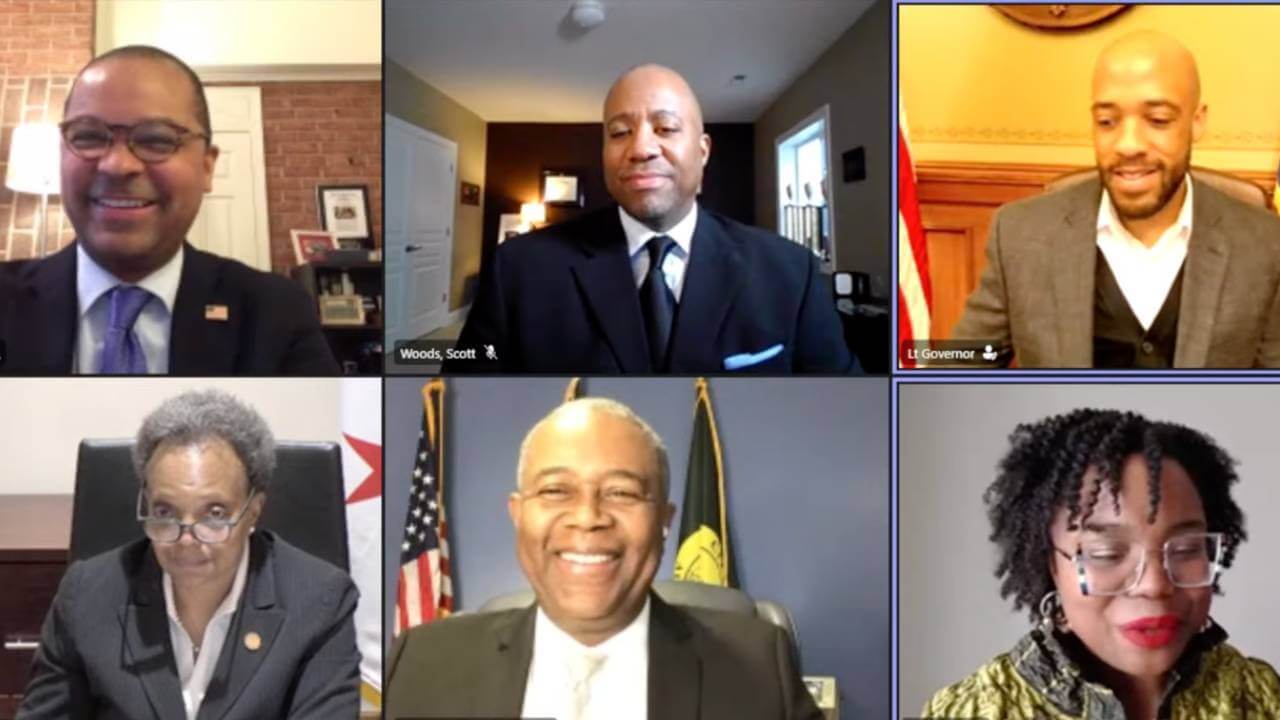 Outlining the problem in her city, Chicago Mayor Lori Lightfoot said one in five children under the age of 18 lacks access to broadband in Chicago. In the city's majority-Black neighborhoods, she said, 40-45% of households lack in-home Broadband.
"When we talk about digital equity, we're talking about freeing up and empowering Black and brown communities in urban areas," said Lightfoot. "This is not just a rural problem. It is a very specific urban issue."
Echoing that, Hardie Davis Jr., mayor of Augusta, Georgia, said that, according to research conducted by the city to identify where the greatest connectivity needs are, it's "not 'rural Augusta.' It is right here in the urban core." According to Mayor Davis, Augusta counts "4,500 homes and/or students who do not have access to broadband."
'Fast and furious' funding
Throwing funds at the problem isn't enough. City and state leaders also emphasized the need to be intentional and transparent with broadband programs and to engage trusted community partners early in the process.
Discussing the city's Connect Chicago program, an initiative launched to expand free Internet access in the wake of the COVID-19 pandemic, Mayor Lightfoot shared some of the challenges she faced getting the program adopted. For starters, she said, families were "dubious and skeptical" of a free program. Further, several families had outstanding debts from carriers that the city had to work through in order to ensure those families could still access services.
"We literally were going door to door to talk to people about the program and we could not have done that without community partnership," said Mayor Lightfoot.
Scott Woods, director of the Office of Minority Broadband Initiatives at the NTIA, agreed that the agency needs to engage stakeholders early in the process. "We have to include service providers, we have to include philanthropic organizations and we have to include community organizations like Black churches," he said.
Further, he said, there's more work to do on affordability beyond the Affordable Connectivity Program (ACP), the FCC's $30 monthly subsidy for low-income households, which may not be enough for everyone. "$30 off of a $100 program, and I can't afford $20, is not solving the issue for me," said Woods.
Looking ahead at forthcoming funding opportunities, Mayor Lightfoot further urged federal agencies to be transparent and to afford cities and states "sufficient time" so they know when to act. "Because these RFPs and grant opportunities are coming fast and furious now," she said.
Related posts:
— Nicole Ferraro, site editor, Broadband World News; senior editor, global broadband coverage, Light Reading. Host of "The Divide" on the Light Reading Podcast.