Montana has joined a growing list of states using federal funds to commission and create a broadband map as it seeks to close its digital divide.
Following a request for proposals issued last year, Montana has tapped real estate information and technology platform LightBox for the project. LightBox has been pursuing state and federal contracts for broadband mapping with its nationwide broadband location fabric technology, called SmartFabric. The company has also licensed its data to the state of Alabama.
Funding for Montana's broadband map came from the American Rescue Plan (ARPA) and was allocated through state legislation last year which established the ConnectMT program, authorizing $275 million for broadband projects and the creation of an Internet service map.
According to Chad Rupe, the state's broadband program manager, the state map will be "vastly different" from the FCC's existing data because LightBox looks at individual locations, whereas the FCC has defined broadband by census block.
"There are very few maps out there specifically talking about individual broadband serviceable locations and defining it by that criteria," said Rupe.
Rupe, who assumed his role in October 2021 – following a stint as Rural Utilities Service (RUS) administrator at the US Department of Agriculture under former President Trump – said the other benefit LightBox brought to the equation was having a readily available off-the-shelf solution and the ability to move expeditiously on producing the map.
"Obviously, there's federal rules and requirements for building these systems within a certain timeframe. From a project planning standpoint, we had to get the map out in a timely fashion so that we don't delay construction due to bureaucracy," said Rupe.
The broadband map will be published "very soon," he added.
---
On this episode of The Divide, LightBox CEO Eric Frank discusses what the company's data reveals about the digital divide in the US.
---
In a press release announcing the partnership, Bill Price, vice president of government solutions at LightBox, and former IT strategist at the Georgia Technology Authority, said states that aren't producing their own maps are at a disadvantage.
"Without LightBox, states are reliant on a national mapping effort that is unlikely to be as timely and precise as what the state can produce in partnership with LightBox. There are potential funding shortfalls which present serious consequences for the inhabitants of states who have not yet invested in their own maps."
While the FCC is mandated by the Broadband DATA Act to produce a new national broadband map for states to base their broadband plans on, that effort has been slow going.
Federal cooperation
Getting accurate data is one hurdle to solving Montana's digital divide. Another is the sheer size and topography.
According to the FCC's latest data, 86.7% of Montana's population has access to 25/3 Mbit/s broadband; but that includes just 73.6% of those in rural areas. Other calculations suggest the divide is much larger. BroadbandNow estimates 77.9% of Montana's population lacks access to minimum broadband speeds.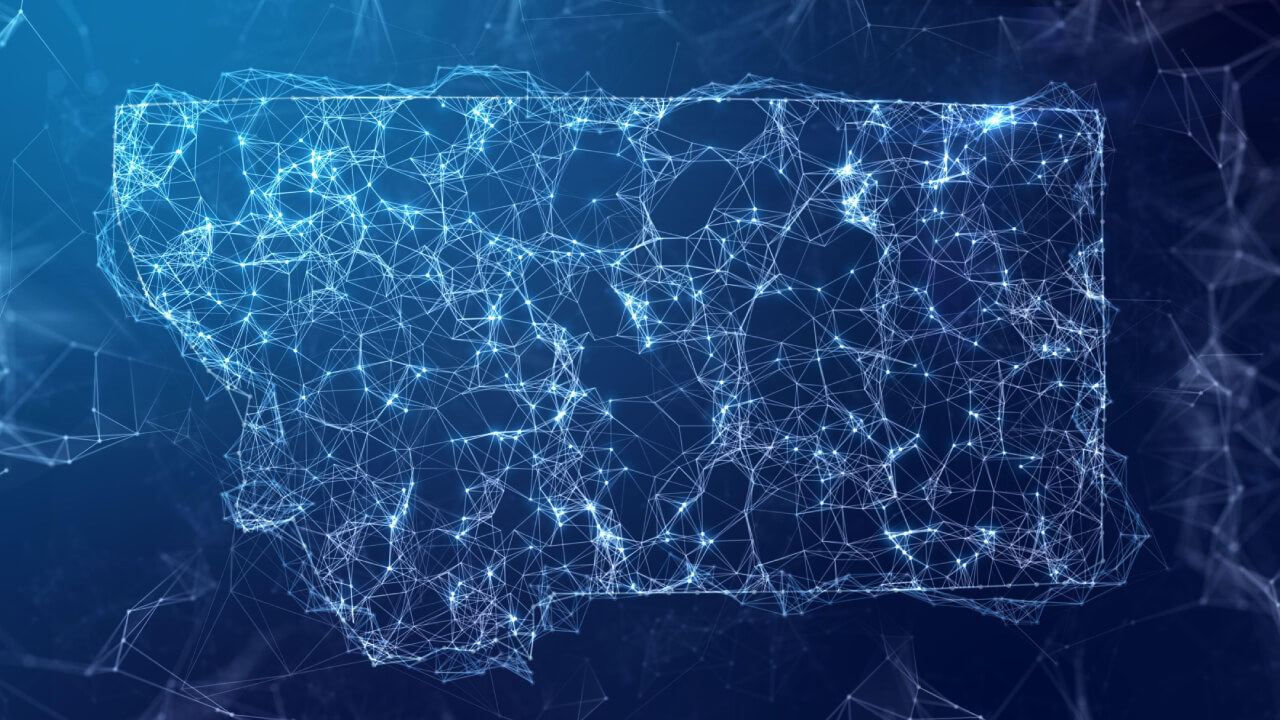 As Rupe explains, with vast amounts of terrain and road systems separating population centers, solving Montana's middle mile challenge has been a significant barrier to closing the digital divide.
Further, said Rupe, having large amounts of publicly owned land in addition to vast rural areas can make builds difficult without cooperation from federal agencies.
"That cooperative effort is vital because oftentimes we have to build through areas of publicly owned land in order to reach the last mile in some of these small towns. And unless you have good cooperation and understanding of the urgency and the need in those communities, that can be very difficult to achieve."
He points to the Federal Permitting Improvement Steering Committee (FPISC), which seeks to streamline federal permitting, and "dig once" policies – requiring fiber conduit installation in federally funded road projects – as helpful levers in navigating that bureaucratic process.
Only terrestrials need apply
While Montana will pursue a tech-neutral approach to solving its digital divide, Rupe said that state grants require technology to provide 100/100 Mbit/s "or it has to be able to upgrade to be scalable." Further, funding from the state must be for "terrestrial-based" deployments.
As per the Biden administration's Infrastructure Investment and Jobs Act (IIJA), Montana, like every other US state, will receive $100 million in broadband grants through the National Telecommunications and Information Administration (NTIA), with more funding to come based on need, according to each state's broadband plan.
In terms of what it will take to close the digital divide once and for all for Montanans, Rupe said the number is "likely going to exceed" what comes down from NTIA grants.
"However, whatever the Treasury provides, we will do our best to implement it according to state statute and do as much as we can to close the digital divide," he said.
Related posts:
— Nicole Ferraro, site editor, Broadband World News; senior editor, global broadband coverage, Light Reading. Host of "The Divide" on the Light Reading Podcast.