New York Governor Kathy Hochul introduced a $1 billion broadband plan during her first State of the State address on Wednesday. The initiative, called ConnectALL – and part of a much larger "New Era for New York" agenda – includes a multi-part program to transform the state's broadband infrastructure and deliver affordable high-speed data services.
According to details released by the governor's office, the new initiative will be funded by "a State investment of up to $300 million, boosted by $345 million in federal funding as well as hundreds of millions of dollars in additional federal funds from the [Infrastructure Investment and Jobs Act] IIJA."
The plan details several steps, including efforts already underway – such as the development of a statewide broadband map, currently being conducted by ECC Technologies.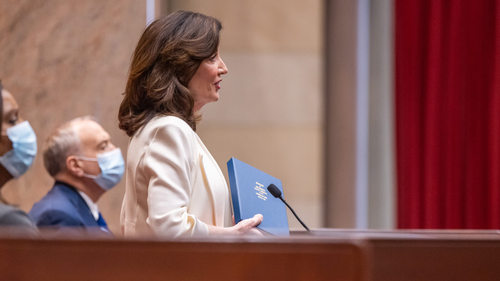 Other significant elements include multiple grant programs for municipalities and non-profit organizations for local broadband planning and construction; as well as a program funded through federal infrastructure dollars and matching grants to support rural broadband access, including last- and middle-mile projects; and a new Connectivity Innovation Fund to support "creative, innovative, and new solutions that meet local connectivity needs."
The state also seeks to tackle existing obstacles to speed up rural deployments, including eliminating fees in areas where the population is too low to generate enough revenue to cover operating costs. Specifically, the plan says, "the State will exempt ConnectALL projects from use and occupancy fees for fiber in the State right-of-way, reducing costs for program participants." However, a spokesperson for the governor's office confirmed to Broadband World News that these elements still require legislation.
The ConnectALL proposal further includes the creation of a digital equity plan, leveraging "significant" infrastructure funding, but it lacks additional details.
At last year's State of the State address, former New York Governor Andrew Cuomo said the state would address broadband affordability by mandating that ISPs offer a $15 option for low-income families. That was later passed by the state legislature as the Affordable Broadband Act (ABA) but has since been held up in court thanks to a suit brought by industry trade groups, including CTIA and ACA Connects – America's Communications Association.
While Hochul's ConnectALL plan seeks to address affordability and digital equity, it focuses its efforts on increasing competition and expanding New York's participation in the Affordable Connectivity Program (ACP), overseen by the FCC and funded by Congress. According to details of the ConnectALL plan, participation in ACP (previously the Emergency Broadband Benefit, or EBB) "lags below 30 percent of eligible households in New York."
In a statement to Broadband World News, Jamie Hastings, SVP of external and state affairs at CTIA, said of the ConnectALL plan: "CTIA is encouraged that today's announcement from Governor Hochul recognizes the important role of wireless in helping to close the digital divide. We look forward to continuing to work with the Administration to achieve the goal of connecting all New Yorkers."
ACA Connects declined to comment.
New York, like every other state, will receive $100 million from the Biden administration's infrastructure bill to spend on expanding broadband. The state will then be able to apply for further funding, which will be distributed through the NTIA based on need.
Related posts:
— Nicole Ferraro, site editor, Broadband World News; senior editor, global broadband coverage, Light Reading. Host of "The Divide" on the Light Reading Podcast.
[Ed. note: This story was updated to include additional information from the governor's office.]