The race is on to develop detailed state-level broadband maps in the US – and LightBox wants states and federal agencies to know it has the data they need.
The commercial real estate technology company, which previously unveiled a national Internet map revealing that 60 million US households lack Internet access, today released an updated version of its nationwide location fabric that its execs say offer an enhanced set of coverage data.
Called SmartFabric, the new offering "integrates each of LightBox's core parcel, building footprint, address file, and geocoding with points of interest, cell phone location, and tax assessor details in a proprietary and flexible modeled fabric," according to a press release. "The result provides even greater precision to tie building footprints to ISP data, particularly in tribal regions, and improved classification of building types as commercial or residential where municipal assessor coverage does not exist."
In an interview with Broadband World News, LightBox CEO Eric Frank said that the enhanced offering includes additional regions – counties and rural areas that LightBox didn't cover before; as well as location attributes not previously available.
"To compute that attribute, we had to do some really interesting data science to determine whether or not – you know, is it the farmer's house or is it the farmer's barn?" said Frank. "In areas that are rural and tribal, there isn't assessor data, there isn't this kind of information that tells you what's what."
That is where the company believes SmartFabric makes a difference. According to Bill Price, LightBox's vice president of government solutions, the new product solves a central problem state and federal agencies face with broadband mapping: accuracy of location data.
Price has direct experience with the matter. He was previously the IT strategist at the Georgia Technology Authority, where he collaborated with LightBox on the state's broadband map. That data revealed much larger gaps in connectivity than the FCC's data shows. LightBox found 507,341 total unserved locations (including 255,067 locations that the FCC considers served); and 50,728 total unserved census blocks (including 12,316 that the FCC considers served).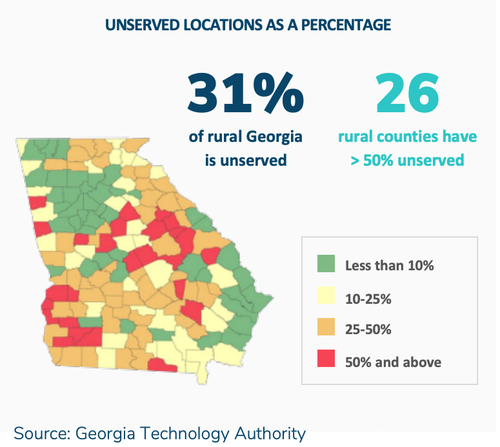 Since then, LightBox has also licensed its data for use by the state of Alabama for its broadband map. In addition, the company is protesting the FCC's vendor selection process for a national broadband map. (Records show that the FCC awarded the contract for the national broadband fabric development to CostQuest Associates, though other applicants like LightBox were given a 100-day window to protest.)
'Every state is a potential customer'
The FCC aside, Frank confirmed that the company is receiving "a lot of inbound demand" and has "probably two dozen" state customers in the pipeline. "Every state is a potential customer," he said.
With billions of dollars in funding on the line for closing the digital divide, it's crucial that the underlying data supporting state broadband plans is accurate.
"Many states are now saying, 'I've got to build my own map. I've got to know what's in my backyard. I've got to advocate for my people. I'm not gonna get handed something by the FCC that I haven't done my own work on to see whether or not that reflects my community,' " said Frank.
As states across the US prepare to receive $100 million each for their broadband plans, with more to be distributed based on need, Frank wants LightBox's enhanced SmartFabric offering to be seen as a way to ensure those dollars go to the right places.
"It's a very small investment to buy some data from LightBox to put yourself in the best possible light and advocate for your constituents," he said.
Related posts:
— Nicole Ferraro, site editor, Broadband World News; senior editor, global broadband coverage, Light Reading. Host of "The Divide" on the Light Reading Podcast.
(Homepage image source: Backyard Productions/Alamy Stock Photo)