While it's well known that the digital divide is a significant problem in rural communities across the US, new research demonstrates how much greater those disparities are for Black residents in those areas than for white residents.
According to research from the Joint Center for Political and Economic Studies, 38% of Black residents in the rural south lack Internet service at home, compared to 23% of their white neighbors in the same region. Known as the "Black Rural South," the 152 counties studied by the Joint Center include areas of Alabama, Arkansas, Florida, Georgia, Louisiana, Mississippi, North Carolina, South Carolina, Tennessee and Virginia designated as rural by the US Department of Agriculture, where at least 35% of residents are Black.
To look at it another way, according to broadband deployment data from the FCC, while 8.8% of residents in non-southern rural areas lack the option to subscribe to fixed broadband, that number jumps to 25.8% in the Black Rural South. (Indeed, the report notes that this disparity is likely larger due to known inaccuracies in the FCC's mapping data.)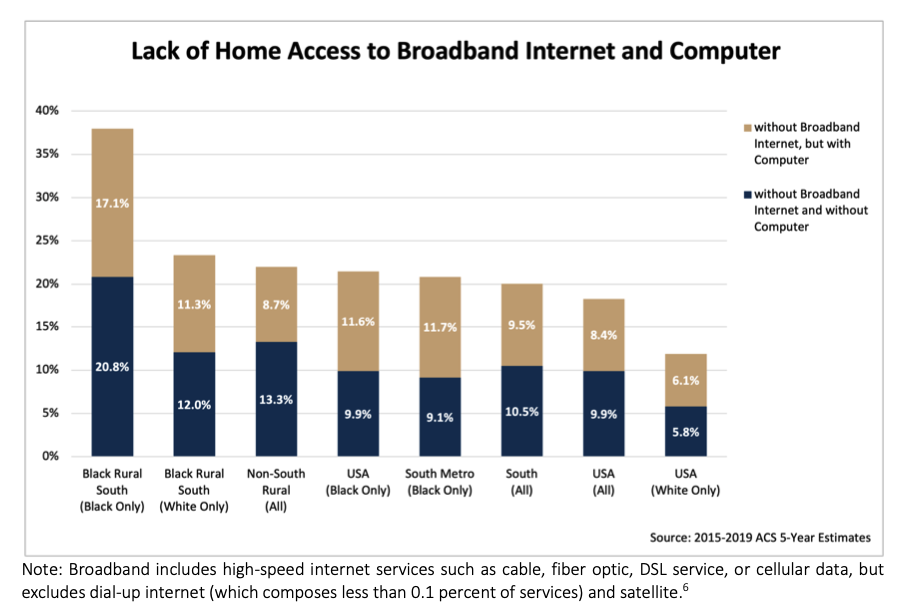 The report points to lack of access to service and unaffordability as barriers to broadband in these communities, as is the case across the nation. But it highlights deeper disparities for Black residents that inhibit broadband adoption. For example, data from Pew shows that those making less than $35,000 per year are much less likely to have broadband: a statistic that applies to 28.6% of all households nationwide but 60.8% of Black households in the Black Rural South, according to the Joint Center.
"The lack of broadband infrastructure magnifies the structural racism that African American families experience in the Black Rural South," said Dr. Dominique Harrison, director of the Joint Center's Technology Policy Program and author of the report. "One of every four Black residents in these communities lack even the option to subscribe to high-speed internet, let alone an affordable one."
As far as the impact on students goes, one heightened by the move to remote schooling in 2020, 49% of Black children live in poverty in the rural south compared to 18% of white children; and 36.1% of Black students in the rural south lack Internet, compared to 28.3% of white students.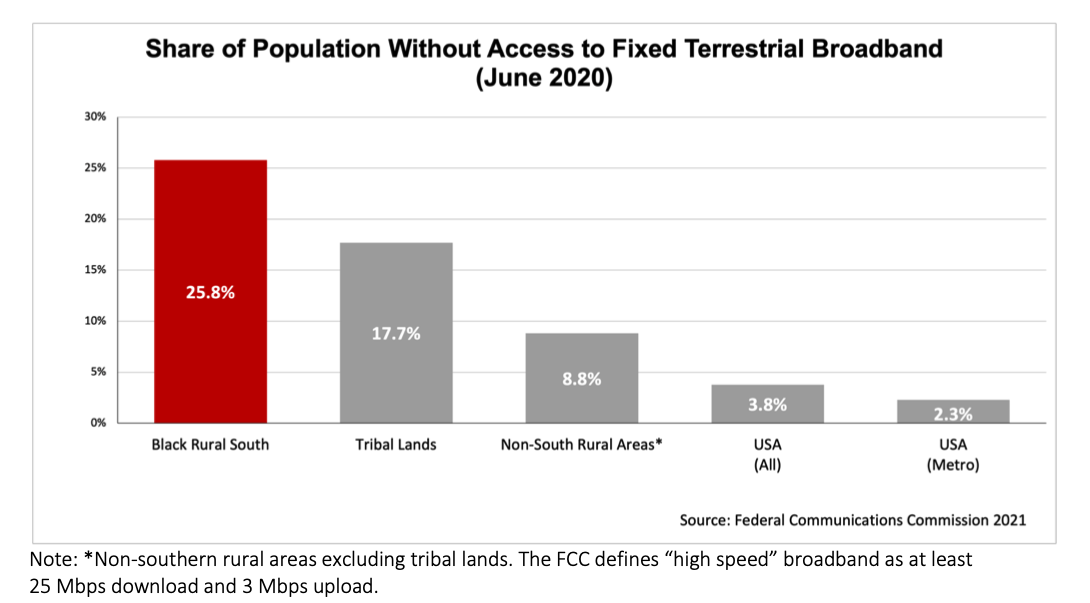 The report offers a series of policy proposals and solutions to address the digital divide in the Black Rural South, including making the FCC's Emergency Broadband Benefit program permanent, requiring ISPs that receive Universal Service Funds (USF) to provide low-income consumers with an affordable option, prioritizing the Black Rural South in federal broadband legislation, research and the distribution of funds, updating the definition of broadband beyond 25/3, prioritizing federal funding for broadband projects developed by Historically Black Colleges and Universities (HBCUs), and lifting state bans on municipal broadband.
Another policy suggestion offered by the Joint Center is to create a task force and rules to prevent digital redlining.
"Research shows that low-income rural areas experience digital redlining – the practice of ISPs systematically excluding low-income neighborhoods from high-speed, affordable internet service," states the report. "Recent research also finds that competition between internet service providers offering fast broadband speeds is less likely in low-income areas and areas with a large share of Black residents. Digital redlining can exacerbate economic, educational, and health care inequality in the Black Rural South when there is a lack of investment in broadband infrastructure."
---
On this episode of The Divide, Angela Siefer of the National Digital Inclusion Alliance explains how "digital redlining" is impacting communities in the US.
---
Some – but not all – of these issues are addressed in the $65 billion broadband bill negotiated and passed by the US Senate. While digital redlining is included, the language was softened to "digital discrimination" and it puts the FCC in charge of establishing what it means to have equal access to broadband, and what constitutes a violation of that for carriers. That rule will eventually be set by the chair of the FCC (currently run by still-acting chair Jessica Rosenworcel), and it remains to be seen how such rules around redlining could change under a different administration.
Meanwhile, the broadband bill awaits passage in the House before it reaches President Biden's desk, as Democrats in Congress seek an agreement on the broader "build back better" package that includes human infrastructure in addition to roads, bridges and broadband.
Related posts:
— Nicole Ferraro, contributing editor and host of "The Divide" and "What's the Story?" Light Reading