Broadband keeps getting faster, but not in the United States.
That's according to new speed test data from Ookla, showing the US dropping from the top ten countries in terms of fixed-broadband speeds.
It's been a steady slide: Ookla's data shows the US slipping from eighth place in 2019 to ninth in 2020 – before disappearing from the chart this year.
The countries topping the list for the fastest fixed broadband are Monaco, making an impressive leap to first place in 2021 from tenth place in 2020, followed by Singapore and Hong Kong.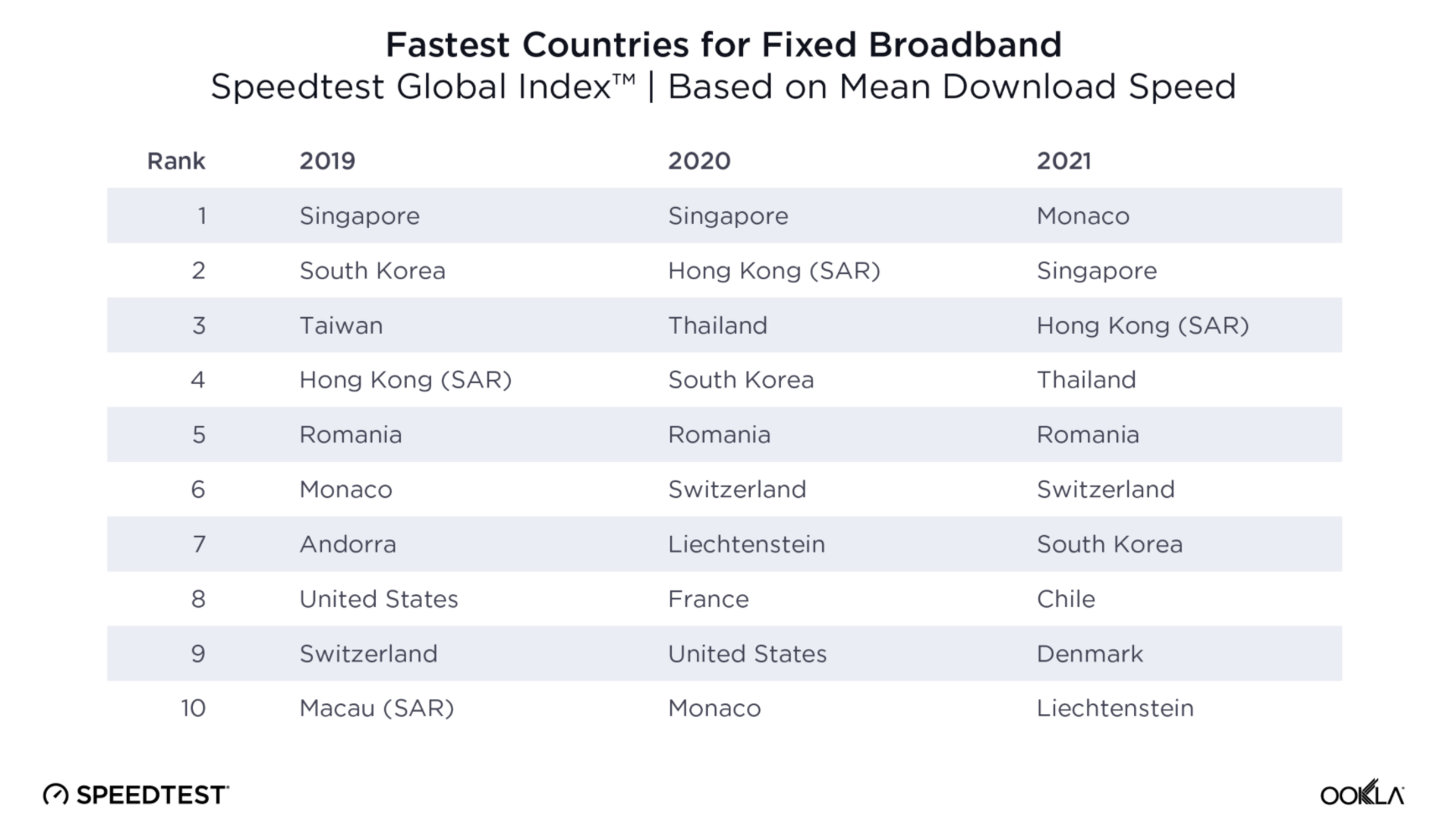 Globally speaking, overall mobile download speed jumped 59.5% in the last year, and fixed broadband increased by 31.9%.
The only country to appear in the top ten for both fixed and mobile speeds was South Korea.
And while South Korea dropped from second place in 2019 to seventh place in 2021 for fixed speeds, it still stands out from the global pack.
"South Korea and the U.A.E. stood out with mean mobile download speeds that were more than 240% faster than the global average and fixed broadband downloads that were more than 70% faster than the global average," writes Isla McKetta, head of content for Ookla. "China's mobile download speed was more than 180% faster than the global average and the country was more than 70% faster than the global average for fixed broadband. Switzerland's mobile and fixed broadband download speeds were close to 100% faster than the global average."
Notably absent from any of the rankings was the UK, where the government has a stated goal of delivering full fiber to 85% of the population by the end of 2025.
Indeed, UK industry regulator Ofcom this week released data showing slow but steady progress on the speed front. According to Ofcom, under 7 million, or 24%, of all UK homes can now access full-fiber internet packages, an increase from 21% at the start of the year. Further, average broadband speeds have increased 20% since the start of the COVID-19 pandemic.
While the United States now has its own plans for universal broadband as well, it's unclear how far those will go to put the country back on the speed charts. Industry efforts to push congressional lawmakers toward mandating fiber and 100/100Mbit/s symmetrical speeds in their bipartisan broadband bill ultimately failed in favor of a "tech neutral" approach capable of 100/20 Mbit/s favored by cable and fixed wireless companies.
Related posts:
— Nicole Ferraro, contributing editor and host of "The Divide" and "What's the Story?" Light Reading