When it comes to solving the digital divide in the US, there are essentially three key issues to tackle: reliability of existing high-speed service, rural access and affordability.
These areas are what Amdocs calls "fundamental connectivity divides," according to a recent report from the company, based on survey data conducted by market research firm Dynata.
The survey provides a closer look at connectivity problems of those with access to high-speed broadband, connectivity solutions for those without any access in primarily rural communities, and those who struggle to afford paying for broadband.
For those with access to high-speed (or what Amdocs calls "premium") broadband, 62% reported having some connectivity problems over the past year, and 36% of that group lost connectivity or experienced an unstable connection while conducting a "critical task." Meanwhile, 34% of premium broadband subscribers reported "never" having connectivity issues.
Turning to rural communities where connectivity is notoriously bad or non-existent, Amdocs surveyed respondents about how best to fix it and found that 42% think "some level of government should be responsible for ensuring their community has reliable internet access."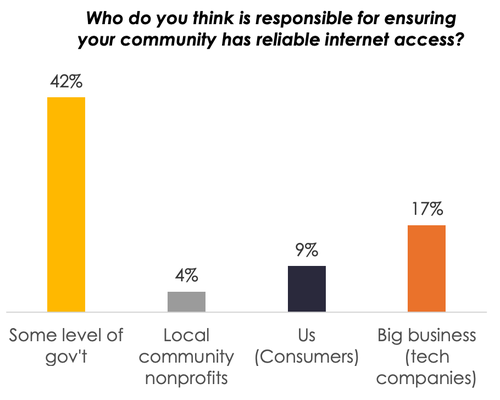 That response is somewhat in line with a survey issued by Morning Consult this year, which found that 53% of US adults think local governments should be able to develop their own broadband services – contrary to the ongoing lobbying effort to prevent that from happening.
Finally, looking at affordability, Amdocs found that 48% of respondents had to reprioritize their budget to afford reliable broadband; and of that group, 18% were unable to successfully reprioritize their spending.
"In the same way that utilities such as electricity, running water and sewage are not optional aspects of modern society, broadband needs to be incorporated into the 'needs pyramid.' Failure to do this means a widening of the digital divide, putting those on the lower end of the socioeconomic spectrum at increasing disadvantage – in their personal, professional and academic lives," writes Anthony Goonetilleke, head of strategy, and group president of product and technology, at Amdocs. "As technology and connectivity propel the global economy, it's our shared responsibility to continuously focus on narrowing the gap."
"While I'm as excited as anyone about the 'next big thing' in 5G and next generation connectivity, like bringing virtual reality or better cloud gaming to my living room; or in the newly coined 'hybrid work environment', being able to prioritize important Zoom meetings with the touch of a few buttons, it's clear that we can't only focus there," he adds. "Across the broader communications landscape, we must consider the fundamental connectivity divides, working with government and industry organizations alike, to deliver a better connected society that ensures equitable access for all."
Digital divide, multiplied
While the COVID-19 crisis has helped shine a light on a digital disparity problem that's existed for many years – and will hopefully lead to a serious effort to achieve universal connectivity – it's still unclear how much further damage this past year has caused for those who were unable to rely on the Internet for work, school and socialization.
Indeed, speaking to Broadband World News, this is what Goonetilleke refers to as the "second and third" digital divide, with potential long-term impacts.
"I'm not sure, to tell you the truth, that we have seen the results of what happened in the last 12 months yet," said Goonetilleke, referencing, for example, students who may fall behind due to an inability to keep up this past year, among other unseen problems. "Like, what happened in the last 12 months may not be catastrophic – but the impact of that for the less fortunate ... the social, economical impact is going to be felt for the next decade," he said.
Related posts:
— Nicole Ferraro, contributing editor and host of "The Divide" and "What's the Story?" Light Reading