Continuing its plans to bring high-speed Internet to the entire UK, Openreach says that even the most far-flung, hard-to-reach areas will now benefit from its rolling fiber.
In an announcement, the company said it is committing to building FTTP in the "hardest to reach 'final third' of the UK," which encompasses 9.6 million homes and businesses, according to industry regulator Ofcom.
The network build will occur over the next three years, to 251 locations, including UK towns Millom, Thurso, Ballycastle and Aberystwyth, with more to be disclosed in an upcoming report. Openreach said it will cover over 3 million of the 9.6 million premises situated in the "final third."
"Openreach is leading the charge to help Government achieve its target of making gigabit capable networks available nationwide by 2025," said Clive Selley, Openreach CEO, in a statement. "And we hope that by publishing our own plans, we can help ensure that taxpayers only fund connections in communities that really need public support."
Openreach has committed £12 billion ($15.5 billion) on delivering full-fiber infrastructure for 20 million UK homes by the mid-to-late 2020s.
To that effect, this week also saw progress on the company's Digital Scotland Superfast Broadband plans (Digital Scotland, or DSSP for short), with FTTP going live for over 950,000 premises in the country.
In an announcement, Openreach said this build includes 110,000 premises that were not initially part of the scheme. It also names funding partners for Digital Scotland as the Scottish Government, Highlands and Islands Enterprise, UK Government through Broadband Delivery UK (BDUK), BT Group (of which Openreach is a part), local authorities and the EU.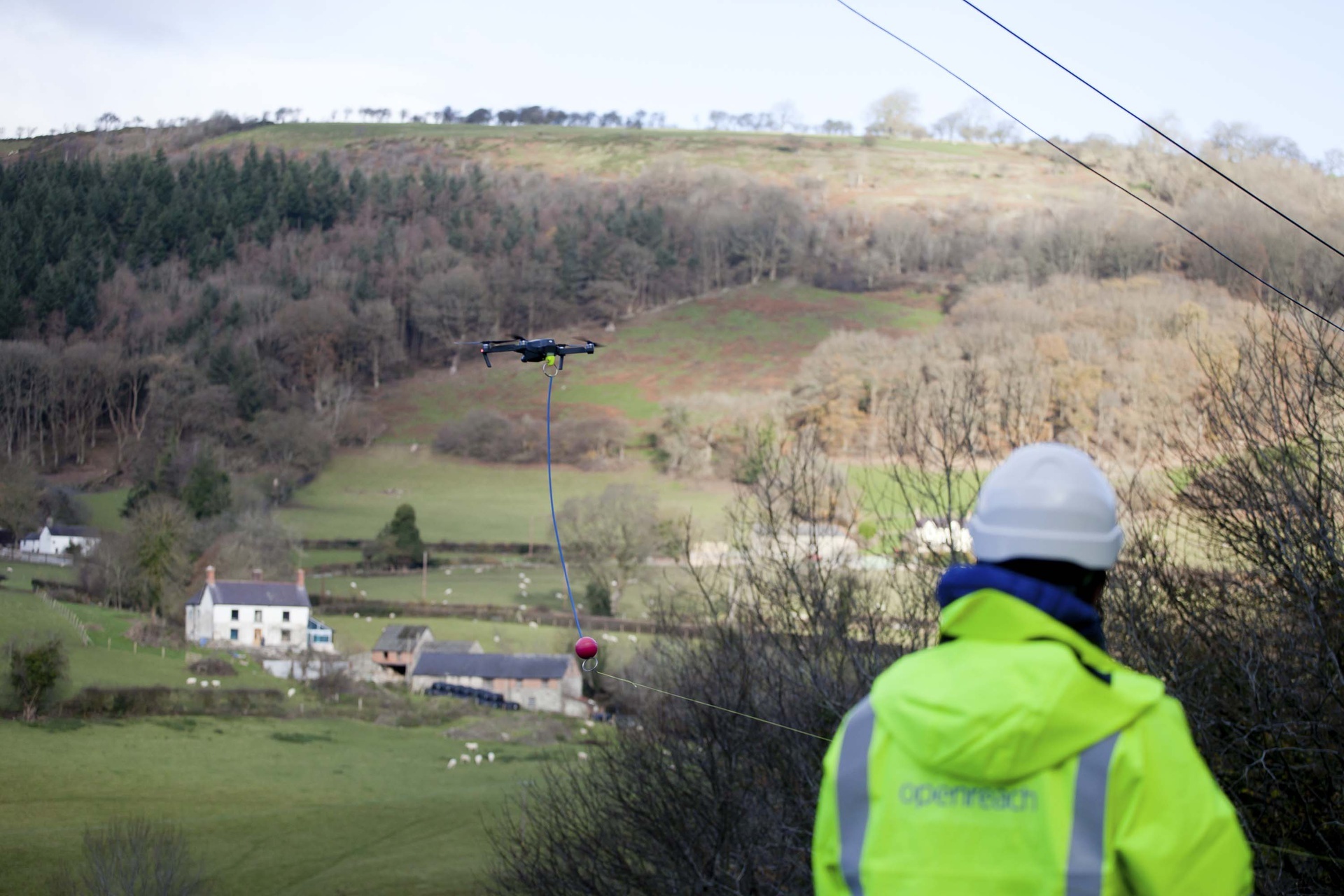 Furthering its commitment to rolling out fiber to hard-to-reach locations, Openreach also disclosed that work will begin on a new drone-testing site in Suffolk.
The company says it uses drones to lay fiber in locations too difficult to access by ground vehicles. With a permit approved for the new testing site, it will now begin clearing, replacing and modernizing existing buildings and create "a new 110m innovation centre and event space."
"Central to the plan is a drone training area, which will be a first for Openreach, and critical to making sure our drone operators get the training and skills needed to do this increasingly important role," said Andy Whale, Chief Engineer at Openreach. "Using drones to build the network is something fairly new to our Chief Engineer team, but a really useful option when we're faced with hostile terrain or a difficult area to cover."
Related posts:
— Nicole Ferraro, contributing editor, Light Reading