A new report from MyBroadband Insights analyzing speed tests performed across South Africa rates MTN as the best network during the COVID-19 lockdowns.
The Q2 2020 Mobile Network Quality Report shows that South Africa had an average mobile download speed of 27.13 Mbit/s and an average upload speed of 10.53 Mbit/s, while average latency in SA was 32ms. South Africa's average speeds have been trending up since the first quarter of 2018, according to the research.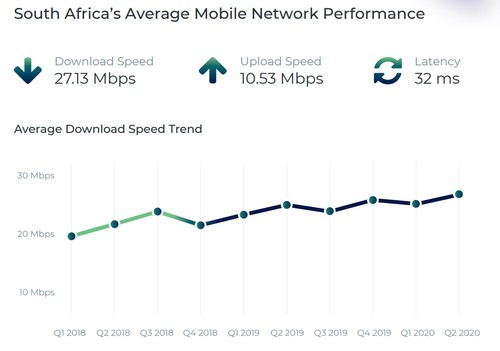 Overall, MTN was ranked as the best network with the highest average download speed of 52.28 Mbit/s. In second place was Vodacom on 29.08 Mbit/s, followed by Telkom on 20.16 Mbit/s, Cell C on 17.62 Mbit/s, while Rain was the slowest network at 10.64 Mbit/s.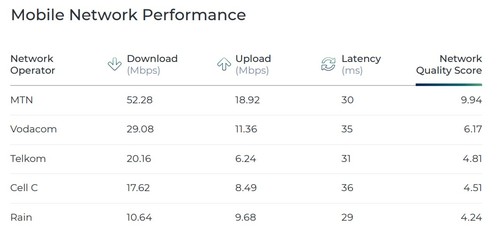 The report is based on 278,890 speed tests which were performed by thousands of MyBroadband Speed Test App users across South Africa between April 1 and June 30, 2020. The download speed (60%), upload speed (20%) and latency (20%) were used to calculate a Network Quality Score out of 10.
In the second quarter of 2020, MTN was far ahead of its competitors with a Network Quality Score of 9.94, followed by Vodacom (6.17), Telkom (4.81), Cell C (4.51) and Rain (4.24).
MTN was also ranked as the best network in the cities of Tshwane, Johannesburg, Cape Town and Durban.
For more insights into how mobile networks in South Africa fared during COVID-19 lockdowns, read the full story on Connecting Africa: MTN named SA's best mobile network during lockdown
— Paula Gilbert, Editor, Connecting Africa