Global growth forecasts continue to tumble as COVID-19 spreads around the world, the latest being predictions for the smart home market. Technology research firm Omdia is predicting that the market will be almost $20 billion short of previous revenue projections in 2020.
According to Omdia, global smart home device sales will now amount to $101.1 billion in 2020, down from its previous forecast of $120.6 billion. Smart home device shipments are projected to reach 603.5 million units in 2020, down from the earlier forecast of 693.8 million. (See Informa Tech Launches Research Firm Omdia.)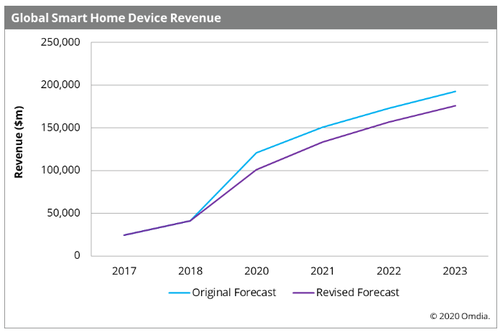 Some might think the smart home device market, which comprises devices that have digital connectivity (including appliances, security systems and climate and lighting control), could benefit from national lockdown efforts that increasingly force people to work from home. It's certainly the case that usage of network and online services has rocketed. (See With COVID-19 comes the real dawn of the digital age.)
However, the smart home market might have to wait a while to benefit from this trend. Omdia pointed to depleted inventories in Asia following breaks in production, as well as delays in deliveries and potentially lower demand. Asia is forecast to see the biggest slowdown in 2020, with a downward revenue revision equating to $7.8 billion and 66.2 million fewer shipments than originally forecast. In the Americas, the smart home device revenue outlook has been reduced by 10.6%.
The spread of the novel coronavirus has placed an unprecedented strain on technology sectors in relation to supply and demand. Blake Kozak, principal analyst at Omdia, said the smart home market tends to be more resilient in the face of economic challenges compared to other, less-diversified industries. "Nevertheless, the smart home market is expected to undergo a correction during 2020, where growth will slow for most countries," he said.
For more on this topic, see:
— Anne Morris, Contributing Editor, Light Reading