BBWN Bites: Virgin Media Trials Microwave Backhaul
Also in this roundup: Calix chosen for Oklahoma rollout; German altnet hits fiber milestone; Broadcom under the EC spotlight; the road to DOCSIS 4.0; and a 5G/FTTH home gateway.
In the UK, Virgin Media is trialing a microwave backhaul link to explore the opportunity to take high-speed broadband services to remote locations that are not currently connected to a fiber backbone network. The cable operator has used Ericsson gear to set up a 10 Gbit/s point-to-point 3km microwave link to connect the UK village of Greenham to a POP (point of presence) on its transport network. The microwave site in Greenham is then linked to a distributed access architecture (DAA) node that currently links to 12 homes with a fiber connection, which Virgin Media says enabled downstream speeds of 1 Gbit/s and upstream speeds of 150 Mbit/s. The 10 Gbit/s backhaul link could support services to up to 500 homes, according to the operator, which adds that using microwave backhaul is about 90% cheaper than laying physical fiber to a small remote village such as Greenham. For more, see this press release.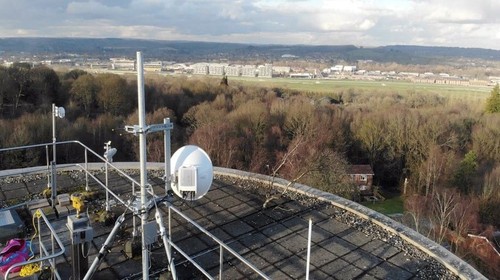 East Central Oklahoma Electric Cooperative (ECOEC) is deploying AXOS GPON gear from Calix as part of a broadband network rollout that will involve supporting roles for Calix Professional Services and broadband consultancy Conexon. ECOEC plans to offer services ranging from 100 Mbit/s to 1 Gbit/s to its 35,000 members across 3,000 square miles in seven counties.
1 & 1, a division of German network operator United Internet, says it has now passed 2 million homes with fiber connectivity, building on the fiber access network built (and still being expanded) by Versatel, which was acquired by United Internet in 2014 for €586 million ($666 million). United Internet isn't just focused on fixed broadband: Its 1&1 Drillisch subsidiary just acquired 5G spectrum in the German auction. (See Germany raids telcos for €6.5B in epic 5G auction.)
Chip giant Broadcom is facing an antitrust probe by the European Commission into whether "exclusivity restrictions" linked to deals with modem and set-top box manufacturers are anti-competitive.
Following from the announcement that the next iteration of cable broadband specs development is underway, Light Reading's cable guru Jeff Baumgartner has charted the evolution of the DOCSIS specs. (See The Road to DOCSIS 4.0.)
Chinese vendor ZTE has announced what it claims to be the "first 5G/FTTH dual-mode home gateway." The gateway supports WiFi 6 for connections at up to 6 Gbit/s within the user's premises, and also supports Bluetooth and Zigbee to help deliver smart home connectivity to multiple devices. While ZTE notes that the device houses "an advanced antenna array so that different RF signals, including 5G, Wi-Fi, Bluetooth and Zigbee, do not interfere with each other," it doesn't mention which 5G spectrum bands are supported.

— Ray Le Maistre, Editor-in-Chief, Light Reading for Broadband World News
Here's where you can find episode links for 'The Divide,' Light Reading's podcast series featuring conversations with broadband providers and policymakers working to close the digital divide.
As we have for the past two years, Light Reading will present our Cable Next-Gen Europe conference as a free digital symposium on June 21.
Charter has sparked RDOF work in all 24 states where it won bids. The cable op booked about $19 million in RDOF revenues in Q1, and expects to have about $9 million per month come in over the next ten years.
As we have for the past two years, Light Reading will stage the Cable Next-Gen Technologies & Strategies conference as a free digital event over two half-days in mid-March.
Launch of 2-Gig and 5-Gig FTTP tiers in 70-plus markets puts more pressure on cable ops to enhance their existing DOCSIS 3.1 network or accelerate their upgrade activity centered on the new DOCSIS 4.0 specs.