In a conversation with the NGON team, Ian Davis, Regional Manager, Optical Fiber, EMEA, at Corning shared views on the African Optical Network market, what technologies he believes will be key for meeting capacity demands, the likelihood of FTTH generating enough ROI, and much more.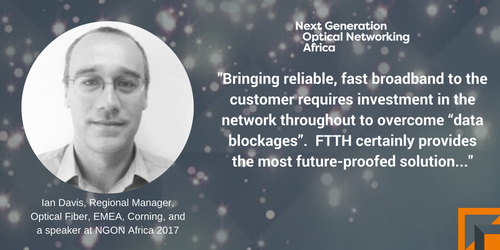 NGON Series team: Where do you see the implementation of optical networking having the most impact in the African region?
Ian Davis: All over – obviously the state of telecoms development varies greatly across Africa but with technologies such as 400G transmission, Internet of Things and 5G on the horizon, nobody can afford to be complacent.
NGON Series team: Are we building fast enough to meet the demands of a bandwidth-hungry generation and how will this demand evolve?
Ian Davis: We see a "virtuous circle" of telecoms investment. Compelling data services and increased competition in providing services and devices makes the consumption of telecom services more attractive. As take-up and spend increases amongst subscribers, the incentive to invest by telecoms operators will grow.
NGON Series team: What do you see as the key technologies enabling networks to evolve to meet capacity demand: ROADMs, OTN, 100G?
Ian Davis: Bringing broadband to the subscribers means "fat pipes" in the access, cables that are very densely packed with fibre. Innovations such as 200um (reduced coating diameter) and bend resistant G.657 fibre aids the roll-out into the cities and suburbs. In the long-haul, 100G has been a dramatic success in reducing cost-per-bit. Look out for even faster channel speeds to address capacity needs on the busiest routes.
NGON Series team: To what extent is terrestrial fibre backbone network investment triggering metro & FTTH network development? Is FTTH the best solution?
Ian Davis: Bringing reliable, fast broadband to the customer requires investment in the network throughout to overcome "data blockages". FTTH certainly provides the most future-proofed solution, however, any penetration of fibre more deeply into the network (e.g. Fibre to the Cabinet) helps deliver an improved service offering.
NGON Series team: Will fibre to the home /premise broadband access services generate sufficient RoI?
Ian Davis: Opportunities to increase ARPU (Average Revenue Per User) are dependent on a reliable delivery of mostly video based service (no outages, buffering or pixelation). Investment in the infrastructure is required to land this opportunity and FTTH can deliver the most robust service available. There are enough attractive applications to attract subscribers to pay for the more premium services.
NGON Series team: For last, what you are looking forward to at NGON Africa 2017 as the chair of the event.
Looking forward to hearing about how networks are developing in Africa, where deployments and upgrades are planned, and what cutting-edge technology is under consideration. This event has attracted plenty of industry leaders from the region in previous years and presents a really good opportunity to network and understand where our product solutions can deliver value to the network owners.