LONDON -- Broadband World Forum -- Key broadband industry stakeholders shared their visions of the broadband innovation future here Tuesday and, perhaps not surprisingly, it revolves around B2B and B2C video.
While in the past video has been thought of as a value-added service, in the future it will become a "basic service," said Xipeng Xiao, CTO Office, West Europe, Huawei Technologies Co. Ltd. during his opening keynote. "You have no choice but to offer video as a basic service," he said. "If your competitors are doing that and you are not, you will lose subscribers." (For more on this keynote, see see this story on Telecoms.com: Embrace video or lose customers – Huawei.)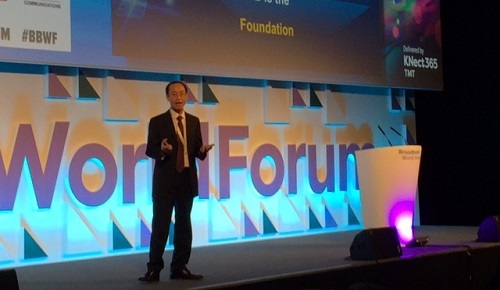 To support all that video, the network must be super-fast and super-flat, with "as few hops as possible. Fewer hops reduce latency and improve user experience," Xiao said. "They need to be able to have all kinds of access. Transport needs to be focused on experience and ready for 4K, virtual reality and 5G. In the past many operators may have multiple networks for the same service, but in the future, it will be consolidated, one network for your B2B and B2C."
However, creating the super-fast, super-flat network capable of supporting video is a huge hurdle when faced with stats offered up by Federico Guillén, president of fixed networks at Nokia Corp. (NYSE: NOK), in his keynote: According to Guillén, only 7% of broadband customers have downstream speeds of more than 10 Mbit/s, while 47% of households worldwide have no Internet access at all.
To meet the instant customer gratification with video, service providers need to provide sustained speeds to everyone at the same time -- 100 Mbit/s and, where possible, gigabit speeds now, 10 Gbit/s by 2020, and in the near future, 100 Gbit/s won't be unheard of, he added. "Everyone wants to have [video] instantly," said Guillén. "The operators who can do that will see better customer experience." (For more, see this story on Telecoms.com: The fine line between today and tomorrow will define success – Nokia.)
According to Guillén, fiber is the solution -- even as the world goes wireless, wireless still depends on wireline. "Everyone will have fiber over time -- it's the best solution but it's expensive and it takes a lot of time." In the meanwhile, "Operators will go everywhere with fiber as close and possible and then use technology to provide fiber-like speed with copper or coax," he added.
Operators here at Broadband World Forum are talking about their superfast broadband trials and attempts at getting to 10 Gbit/s. Yesterday, Australia's NBN Co said it has reached speeds of 8 Gbit/s during lab trials of XG.FAST technology carried out with Nokia. "The peak speeds were achieved over 30 meters of twisted-pair copper during trials at NBN's North Sydney headquarters, and the companies were able to reach speeds of 5 Gbit/s over a distance of 70 meters," writes Light Reading's Iain Morris from the show. (See Australia's NBN Hits 8 Gbit/s on XG.FAST.)
In addition to advances in G.fast technology, network intelligence, flexibility and elasticity are also key to being able to achieve superfast speeds, noted Li Ming, vice president for Europe at ZTE Corp. (Shenzhen: 000063; Hong Kong: 0763), in his keynote. Ming highlighted five key trends that are essential in a 10Gbit/s and 100Gbit/s future: virtualization; openness; intelligence; cloudification; and the Internet of Everything. "The big difference is that 'smart' is always based on the whole picture of the network -- ultrafast, elastic and smart for the management and operations."
— Elizabeth Miller Coyne, Managing Editor, Light Reading