Google Fiber is ratcheting up deployments of a new 2Gbit/s broadband service that was initially offered last fall in select markets via the ISP's Trusted Tester program.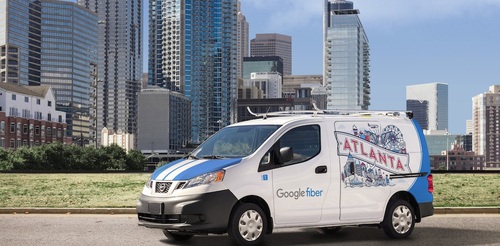 The new offering, which delivers 2 Gbit/s down and 1 Gbit/s upstream for $100 per month, has been launched in Utah (in both Provo and Salt Lake City) and in Atlanta, following earlier debuts in Huntsville and Nashville. Google Fiber pairs that service with a new Wi-Fi 6 router and Wi-Fi mesh extender.
Google Fiber tangles in those new markets with cable incumbent Comcast, which offers a 1-Gig service (in the downstream direction) on its hybrid fiber/coax (HFC) DOCSIS 3.1 network, as well as a pricey symmetrical 2Gbit/s fiber-to-the-premises (FTTP) product called Gigabit Pro that is sold on a targeted basis. The cable industry is also working on DOCSIS 4.0, a next-gen platform for HFC that will support multi-gigabit speeds. The industry's broader "10G" initiative targets HFC as well as FTTP and wireless networks with symmetrical 10-Gig speeds, along with enhanced security and low latency capabilities.
Google Fiber is expanding the new offering, branded as "2 Gig," after "thousands" of customers took advantage of the ISP's test program, the ISP announced in this blog post .
Customers in those markets can still get Google Fiber's flagship symmetrical 1-Gig service for $70 per month.
Google Fiber plans to introduce 2 Gig in more cities "shortly," but didn't identify them. Potential expansion candidates include Kansas City (Kansas and Missouri); San Antonio, Texas; and The Triangle, North Carolina.
Last fall, Google Fiber said 2-Gig service will launch in most of its FTTP and Webpass fixed wireless cities in "early 2021."
Related posts:

— Jeff Baumgartner, Senior Editor, Light Reading, special to Broadband World News