Verizon has broadened the availability of Fios Forward, a low-cost broadband service for qualified households. The telco introduced the offering on a limited basis in April 2020.
Verizon said Fios Forward is now available to any customers who qualify for the Lifeline government assistance program (i.e., if the home's income is 135% or less than the federal poverty guidelines, or if the household participates in one of several federal assistance programs, including the Supplemental Nutrition Assistance Program).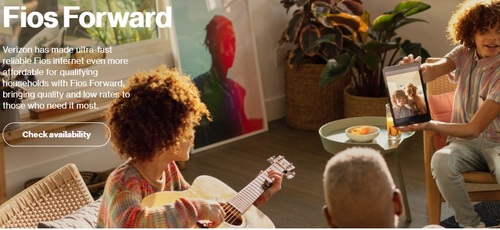 Qualified customers have the option to sign up for one of the following Mix & Match Fios Home Internet plans:
Fios 200/200 Mbps (300/300 in the New York DMA) for $19.99 per month.
Fios 400/400 Mbps (500/500 in the New York DMA) for $39.99 per month.
Fios 1-Gig (up to 940 Mbit/s down and 880 Mbit/s upstream), plus an included router, for $59.99 per month.
Verizon said each of those tiers, all of which are uncapped, provides total savings of up to $20 per month. Customers on the Fios Forward program have the option to bring their own router or can receive one from Verizon, with the router fee costs waived for the first 60 days for new customers.
Verizon noted that other qualified new customers would also be eligible for additional promotions and benefits, including up to 12 free months of Discovery+, the premium subscription VoD service from Discovery Communications that launched nationwide today.
Verizon, which ended Q3 2020 with 6.11 million Fios Internet customers, has not released the number of qualified customers and subscribed to the Fios Forward program. However, Verizon did see an uptick in Lifeline-related sign-ups after first introducing the program and April and saw that trend continue when the company extended the offer through the end of 2020, a Verizon spokesperson said.
Verizon's new program compares with some low-cost broadband programs offered by cable operators that cost less and deliver much less speed.
For example, Comcast has Internet Essentials, a program introduced in 2011 that provides speeds of up to 25 Mbit/s downstream and 3 Mbit/s upstream starting at $9.95 per month. Cox Communications' Connect2Compete service provides a similar level of broadband service to qualified households for $9.95 per month.
Related posts:

— Jeff Baumgartner, Senior Editor, Light Reading, special to Broadband World News