After forcing cable operators to upgrade their networks and accelerate the deployment of 1-Gig broadband services, Google Fiber is now poised to do the same with 2-Gig as it prepares to unleash a new, speedier service in two markets starting next month.
Google Fiber announced Monday it will offer an uncapped 2Gbit/s offering to select customers in Nashville, Tennessee, and Huntsville, Alabama, that are part of its "Trusted Tester" program. That new, speedier service, – simply referred to as "2 Gig" – will start at $100 per month ($30 more than Google Fiber's baseline 1-Gig broadband product), and pair the connection with a new Wi-Fi 6 router and Wi-Fi mesh extender.
Google Fiber said it intends to extend access to the new offering to most of its Google Fiber and Google Fiber Webpass (the ISP's fixed wireless service) cities in "early 2021."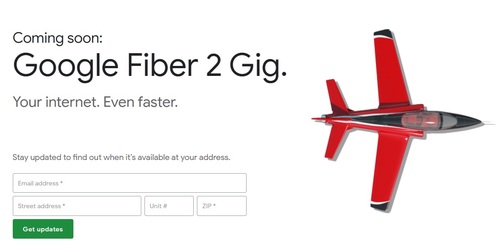 "When it comes to Internet, fast is never fast enough," proclaimed Amalia O'Sullivan, Google Fiber's director of product management, in this blog post about the 2 Gig test.
Upstream pressure
The new offering will raise the billboard speeds delivered by Google Fiber, but it could also prod cable operators, telcos and other ISPs to quickly match up.
Comcast already offers a pricey symmetrical 2Gbit/s residential service – branded as Gigabit Pro – on a targeted basis using FTTP. Meanwhile, many cable operators have introduced 1-Gig services (at least in the downstream direction) on their DOCSIS 3.0 and DOCSIS 3.1 hybrid fiber/coax (HFC) networks.
Specifically, Google Fiber's 2-Gig speed upgrade could cause the cable industry to accelerate the development of DOCSIS 4.0 or to rapidly execute on upgrades that expand the amount of spectrum dedicated to the upstream.
For more about the competitive implications of Google Fiber's new 2-Gig service and how cable might respond with DOCSIS 4.0 or its grander "10G" initiative, please see this story at Light Reading: Google Fiber to unleash '2 Gig' service.
Related posts:

— Jeff Baumgartner, Senior Editor, Light Reading, special to Broadband World News