Thanks in part to local dominance by certain large cable operators and telcos, almost 50 million Americans live in areas with only one choice of broadband provider, claims a new study from the Institute for Local Self Reliance (ILSR).
In its analysis of FCC Form 477 data (June 2019 v1), the organization's report – "Profiles of Monopoly: Big Cable and Telecom" – likewise found that Comcast and Charter Communications have a "monopoly" broadband position in areas containing 47 million people, with another 33 million having slower or reliable DSL as the competitive choice.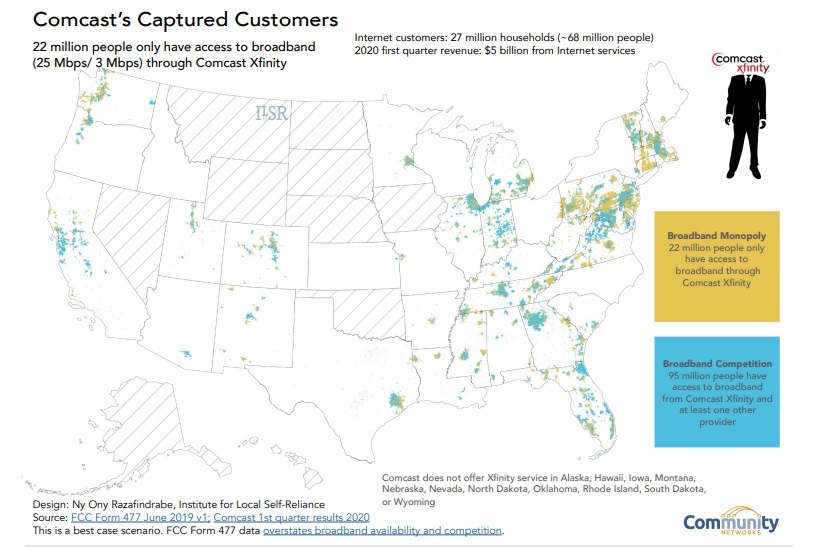 The study doesn't see eye-to-eye with federal data showing that those two cable operators have singular dominance over fewer US homes. "We think this is mostly a mirage resulting from how the FCC reports data," the report notes. "A significant number of the census blocks showing new competition are likely only partially served."
The report also shines a light on several other US service providers, including AT&T, Verizon, CenturyLink, Frontier and Windstream.
The study classifies broadband service areas and identifies where ISPs face no competition in providing broadband speeds of 25 Mbit/s down and 3 Mbit/s up – the speeds that the FCC currently uses to define "broadband."
Its analysis includes fixed wireless Internet access providers that claim to support that 25/3 threshold, but warns that this market is typically made up of smaller companies that are challenged to complete what it calls the "unnecessarily complex and poorly managed" FCC data collection process.
The study does not include geostationary satellite broadband services since they are dependent on terrain and weather and are usually saddled with poor latency and higher prices than most terrestrial ISPs. ILSR said there's still not enough public data on newer low-Earth orbit (LEO) systems to be part of the study.
ILSR also labeled the Connect America Fund a "failure," holding that large companies have largely abandoned the rural US.
"[A]vailable data suggests that government programs to encourage rural investment from the biggest companies have generally failed whereas cooperatives and smaller firms have thrived with available subsidies," the report says. It later concludes that a lack of widespread choice in some markets shows that the "broadband market is broken."
US cable operators dominate Q2 2020
The ILSR study also coincides with the timing of Leichtman Research Group's Q2 2020 study of the US broadband market, which finds the top US cable operators and telcos representing 96% of the market added 1.24 million broadband subs in a pandemic-fueled period, up from a pro forma gain of just 375,000 subs in the year-ago quarter. Broadband adds in Q2 2020 were also the most in any quarter since Q1 2012, LRG said.
Top US cable continues to dominate, adding 1.4 million broadband subs in the quarter (the most since Q1 2007), for a total of about 70.6 million. The largest US telcos combined for a net loss of about 155,000 broadband subs in Q2 (similar to a year-ago loss of 160,000), ending the period with 32.7 million.
Related posts:

— Jeff Baumgartner, Senior Editor, Light Reading