8K video is still hard to come by. Still, engineers and other video tech specialists are already putting a lot of thought into how to deliver content in the pixel-packed format without causing networks to buckle under the strain.
There's not much 8K fare in the wild yet. There's also a dearth of TVs and displays that can handle 8K (the latest sales forecast from the Consumer Technology Association expects about 504,000 8K TV units to be sold in the US this year). These things will only be a problem if 8K somehow becomes mainstream.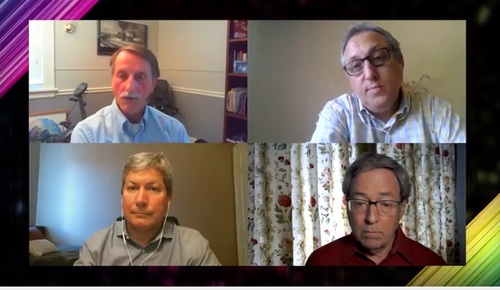 Preparing for that day was a primary theme during a session dedicated to 8K delivery at NAB Digital Express, an online event built as an alternative to the canceled NAB 2020 show and held last week (you can still register for it and view event sessions and panels on an on-demand basis).
8K carries a lot of data, which will could put pressure on networks as 8K displays and content become more commonplace.
Thierry Fautier, vice president of video strategy at Harmonic, said on the panel that 8K broadcasts in Japan eat up about 85 Mbit/s, but demonstrations of compression techniques have been able to trim that down to about 27 Mbit/s. Samsung, meanwhile, has been using a set of codecs to stream 8K content – HEVC, AV9 and AV1 (a royalty-free compression format) – to help get bandwidth requirements to a manageable level, Fautier said.
Delivering 8K on a fiber network for streaming using HEVC at a bit rate of about 40 Mbit/s generally acceptable, Fautier said. But he warned that a new codec would likely be required when 8K starts to scale up.
The video industry is already starting to size up the data savings promised by next-gen codecs such as VVC (Versatile Video Codec), a successor to H.265/HEVC, also referred to as H.266; and EVC (Essential Video Codec). Fautier notes that EVC is slated to be about 25% more efficient than HEVC, with VVC potentially being 50% more efficient than HEVC.
New codecs aside, Harmonic and others are putting their weight behind dynamic and AI-assisted encoding that adjusts bit rates based on the complexities of the content.
"We are at just the tipping point" with AI-assisted encoding, Fautier said. "We have not explored all of the possible techniques that AI can bring us, but I think 50% reduction compared to a classical approach is already a very good savings."
And that AI-aided technology is being viewed as a technique that can upscale or downscale 8K content.
Samsung is exploring this idea with an AI codec called ScaleNet, which trains two neural networks to pick out the relevant portions of a piece of 8K video and do a "smart" downscaling or upscaling of the content, Bill Mandel, vice president of industry relations at Samsung Research America, said.
"With this technology, you can put 8K content through a 4K pipe, or 4K content through a 2K pipe," he explained. "If you can only broadcast high-def, now you can broadcast 4K."
For more on the 8K video distribution topic, including some thoughts on how advanced audio will enter the picture, so to speak, check out the full story at Light Reading: Putting the squeeze on 8K .
— Jeff Baumgartner, Senior Editor, Light Reading, special to Broadband World News