Following earlier data spikes on its residential broadband networks in March and into early April driven by millions who are working and studying from home amid the spread of COVID-19, Comcast said usage has now plateaued in most of its cable markets.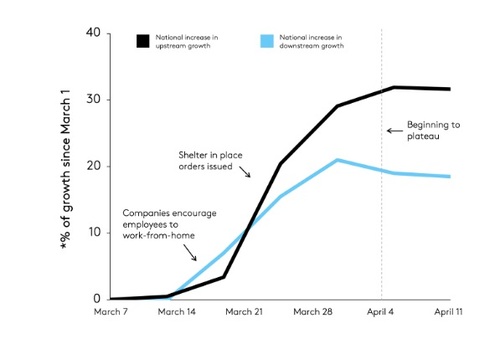 Since March 1, Comcast said it has seen a 32% increase in upstream traffic and an 18% boost in downstream traffic, holding that those totals are "still within the overall capacity of our network."
But general usage trends have also shifted during the pandemic. Downstream peaks are now occurring at 9:00 p.m., compared with the period of 7:00 p.m. to 8:00 p.m. prior to the pandemic. Upstream peaks, meanwhile, have moved from 9:00 p.m. to throughout the workday (8:00 a.m. to 6:00 p.m.) in most cities as of April 15.
Using the March 1 baseline, Comcast, which has been running more than 700,000 diagnostic speed tests on most days, has also seen VoIP and video conferencing climb 228%, gaming downloads surge 77% and streaming and web video consumption jump 37%.
Among Xfinity Mobile customers, Comcast has seen a 19% drop in LTE data usage (Verizon is Comcast's MVNO partner) and a 49% increase in mobile data usage over Wi-Fi.
Comcast has also observed a change in TV viewing behavior, with a two-hour rise in the amount of daily viewing per household and a 50% increase in VoD hours consumed versus year-ago numbers.
Broader US cable trends
Comcast's latest peak usage results closely mirror a broader view of US cable network trends.
The NCTA – The Internet & Television Association's updated COVID-19 Internet Dashboard also shows a flattening of peak usage for both the downstream and upstream based on aggregated data from Altice USA, Cable One, Charter Communications, Comcast, Cox Communications, GCI Mediacom Communications, Midco and Sjoberg's, a small cable op based in Thief River Falls, Minn.
While downstream peaks are up 20% since March 1 based on that collected data, they are up just 0.7% for the week of April 4-11 from the prior week, NCTA said.
It's a similar story for the upstream, which is up 34% since March 1, but up just 0.7% for April 4-11 from the prior week.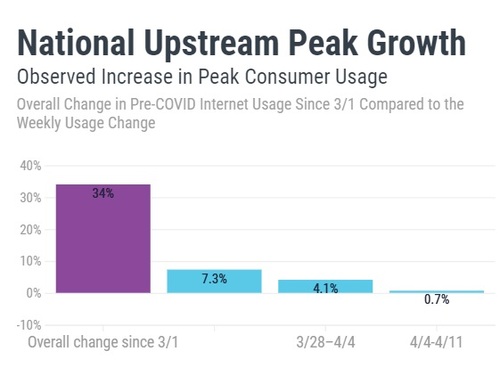 Related posts:

— Jeff Baumgartner, Senior Editor, Light Reading, special to Broadband World News