The bill Charter Communications paid to acquire Time Warner Cable in 2016 just got a bit larger.
Charter will fork over $18.8 million in a settlement (PDF) with a California court stemming from allegations that Time Warner Cable used deceptive and misleading practices to lure thousands of customers into buying high-speed Internet speeds that the operator couldn't provide.
The complaint, filed on behalf of about 170,000 customers in California, alleged that TWC issued outdated cable modems that limited the speeds that customers could receive, rendering them unable to receive the advertised speeds for which they were paying. The suit further alleged that TWC's "limited infrastructure" likewise made it impossible for the operator to deliver speeds that some customers were paying for.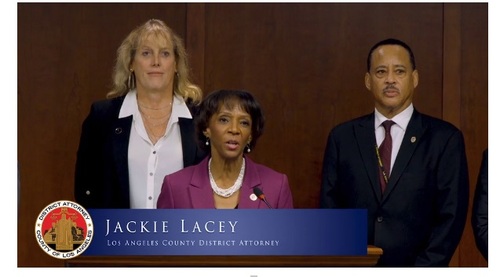 About $16.9 million linked to the settlement will be paid in restitution directly to eligible customers. The other $1.9 million will be split between the district attorneys offices for the counties of Los Angeles, San Diego and Riverside to cover the cost of the investigation and prosecution.
Most eligible consumers will get a $90 one-time credit on their broadband bill from Charter. Some will also be eligible for a credit of $180. All eligible customers are to receive the credit within the next 60 days and won't need to fill out a form to get the credit, Los Angeles County District Attorney Jackie Lacey said Thursday at a press event announcing the settlement.
Additionally, about 2 million Internet customers in California will receive three free months of Showtime (valued at $45) if they don't already subscribe to the premium service. Those without cable are in line to get one free month of Charter's Spectrum Choice streaming package (valued at $40), an offer that will not auto-renew at the end of the free period, Lacey said.
"This is the largest direct settlement or restitution order ever secured by the Los Angeles County district attorney's office in a consumer protection case," Lacey said.
The stipulated final judgment was signed on February 14. Charter settled without admitting guilt, but, according to the judgement, the suit also prevents the company from advertising broadband speeds it knows or should know it can't deliver consistently during peak hours.
This isn't the first time Charter has had to clean up a mess originating with TWC. In 2018, for example, an appeals court upheld a $140 million jury verdict against TWC in a VoIP patent squabble with Sprint. Also that year, Charter agreed to a $174.2 million settlement with New York State Attorney General Barbara Underwood stemming from a suit claiming that Time Warner Cable had under-delivered on promised Internet speeds.
Related posts:

— Jeff Baumgartner, Senior Editor, Light Reading