In today's tech-driven society, high-speed connectivity has never been more important -- from connected kitchen appliances to online banking to video conferencing, the Internet and our digital devices run our lives. Yet more than 19 million US residents still don't have access to high-speed broadband, most of them dwelling in rural regions of the country.
This figure equivalent to the entire population of New York state: Imagine, if every single person who lives in the Empire State -- from Albany and Niagra Falls to Manhattan, the Bronx and Brooklyn, all the way out to Hampton Bays and beyond -- had no access to speedy Internet access. The difference between city and country is vast, with 24% of Americans in rural communities lacking access to 25 Mbps service versus 2% of urban residents. Lacking high-speed broadband has real economic consequences, and people living in rural areas throughout the country are falling further and further behind, creating a digital divide.
People in unconnected parts of the country lose both educational and employment opportunities. For students, the digital divide creates what's been called the "homework gap" -- an achievement disparity between the new "haves" and "have-nots." There are countless stories of young students doing their homework at McDonald's because they cannot log in from home and cannot even go to a library because there isn't one nearby or it closes early because of funding problems. This isn't fair and is leading to additional hurdles for already disadvantaged students.
Slow connections also preclude remote work or e-commerce businesses, forcing people who love their lives in rural communities to move to cities, thereby exacerbating the so-called brain drain. This creates a vicious cycle: Rural areas lack opportunities, leading to further divestment which makes it more difficult to encourage operators to invest in the broadband infrastructure necessary to advance rural America.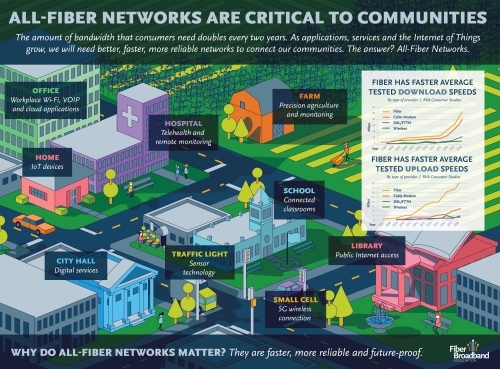 Fiber broadband provides a host of essential services to communities, both rural and urban.
But there's a silver lining. Our latest research shows that, with the right investment, it is possible to deploy fiber-based, ultra-fast high-speed connectivity to nearly every American home. Within the next ten years, the US has the potential to cost-effectively increase the number of homes passed by all-fiber networks from 40% to 90%. This would take an investment of about $70 billion.
So how can we make this happen?
First, state governments should eliminate barriers by encouraging forward-leaning rights of way, pole attachment and battery back-up policies to help accelerate fiber builds. States like Texas, Georgia, North Carolina, Vermont and Mississippi already have created regulatory environments that make fiber deployment easier.
Governments incentives to private companies to encourage deployment of all-fiber networks in rural communities help, too. Local governments may even want to invest directly in all-fiber networks to propel community growth. On the federal level, Congress can support public-private partnerships (P3s), the FCC continue investment programs like Connect America Fund and the US Department of Agriculture can expand its RUS ReConnect Program.
High-speed connectivity is far from novel today; rather, it is imperative. It is time to invest in fiber across rural America and ensure everyone is connected to the educational and economic opportunities of the 21st century, for today and the future.
Related posts:
— Lisa R. Youngers is President and CEO of the Fiber Broadband Association (FBA), the only all-fiber trade association in the Americas. Follow them on Twitter @fiberbroadband.