AUSTIN, Texas -- Big Communications Event -- AT&T is using network data to drive its fiber deployments and even basic things such as the most efficient use of its massive fleet of trucks and technicians, Melissa Arnoldi, president of technology operations, said here today.
Much of Arnoldi's presentation was devoted to 5G and what it takes to build a firm foundation for this next-generation technology -- subjects that include deep fiber deployment, software-defined networking and edge computing -- but in her final comments, she touched on the critical role data mining plays in helping AT&T drive costs out of its fiber rollout processes.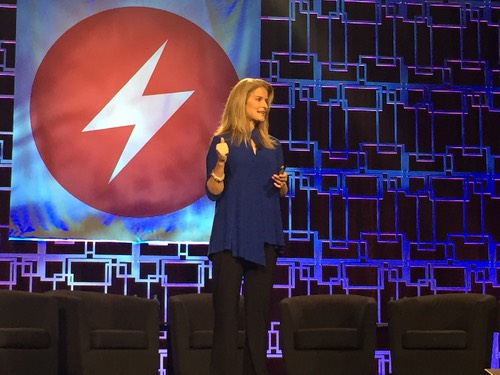 One of Arnoldi's first moves upon taking this job last year was to create a chief data officer, and appoint Steve Stine to fill that job. The point of naming a chief data officer, Arnoldi said today, is to make sure that AT&T has clean data about its network and how it is being used -- then uses that data to drive decision-making. (See AT&T's Stine: Driving the Data That Fuels Business Success.)
"We have a pretty big bogey this year to drive down the cost of operations, but as well, make sure our business teams understand where our customers are, what they like, who is purchasing what products, all anonymized," Arnoldi said. "If you think about today when we lay fiber, we have this integrated fiber planning tool, because we have consumers and business customers; we can determine based on the data and based on where the poles are, based on where we have fiber, what's the most economical and best way to get from point A to point B."
In addition, AT&T analyzes how to more effectively dispatch trucks, based on a combination of data including time of day, weather and road conditions and the type of service level agreement a customer has.
"It has made a huge difference both in terms of efficiency and customer satisfaction," Arnoldi said.
AT&T's ambitious rollout of 5G, starting with 5G Evolution but including standard mobile 5G in 12 markets later this year, was the primary theme of Arnoldi's presentation. She emphasized the role that SDN, running on commoditized hardware, will play in enabling the new services and business models that are crucial in the post-5G era. A big part of that will be building out edge computing, to reduce latency and enable things such as augmented reality and other new applications, she said.
Related posts:
— Carol Wilson, Editor-at-Large, Light Reading