Video streaming has driven Australian data consumption sevenfold between 2012 and 2018, with the average home user now consuming 213 GB per month, NBN Chief Technology Officer Ray Owen told a packed keynote theatre at Broadband World Forum on Thursday.
Peak usage occurs mid-afternoon -- when children arrive home from school -- and in mid-evening, when adults have probably eaten dinner and want to watch a movie, check out website videos and news, according to NBN network analysis.
But not all broadband subscriber use is equal. The top 14% of end-users consume half of all data on the network, and the top 1% of residential customers use around one terabyte per month, Owen said. The 4.4 million premises now activated on NBN's broadband access network use 30 petabytes of data every day -- the equivalent of about 15 trillion pages of printed text, he added.
"Whilst our current network is coping well despite the rapidly increasing usage, we are already working towards making sure the network will be able to meet the demands of the future as well," Owen said. "We have already deployed DOCSIS 3.1 on our HFC network to help provide greater capacity and are working towards enabling Gfast capability on our Fiber-to-the-Curb network as well." (See Cut Costs, Not Driveways, With Reverse-Powered Fiber-to-the-Curb.)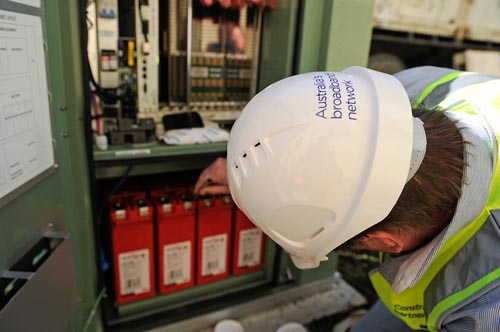 NBN also improved compliance with agreed-upon installation times, which has risen to 94% from 87% two years ago, Owen said. "We have spent a lot of time over the last year working with our retailers to improve the customer experience from the initial end-user connection to the network, through to the experience when they are online, and we have made strong progress across the board in both of these areas," Owen said.
When it comes to broadband performance, NBN's wholesale network is only one piece in the puzzle, he noted, adding that old customer premises equipment (CPE) and poor performance from modems sold by retail service providers (RSPs) can also impact speeds.
"We are doing a lot of work in terms of customer education and making sure end-users check what they are doing online to make sure they choose the right plan, then they need to select the right retail provider for their needs and finally they need to connect to the network as best they can with a good quality modem that is placed in the optimal position," Owen said.
These strategies appear to be working, as the data usage increase shows. For more details, NBN has shared the results of "Connecting Australia 2018," an annual report on the impact this tax-funded infrastructure has on the country and people. (See Broadband Boosts Australia's Economy.)
Related posts:
— Niall Hunt, Digital Lead, Content & Communities, KNect365. Follow him on Twitter @Niall_Hunt and learn more about Broadband World Forum here.