In its fourth quarter of 2019, Calix returned to year-over-year growth, demonstrating the company's ongoing successful transformation from a traditional hardware vendor to a provider of platforms and services, according to President and CEO Carl Russo.
For the quarter ended December 31, 2019, Calix reported revenue of $120.19 million, up 4% compared with $115.52 million in the same period 12 months prior. Gross margin increased to 45.5% in Q4 2019 from 44.7% in Q4 2018. And total operating expenses dropped to $53.22 million in its most recent quarter versus $56.8 million in the last three months of 2018.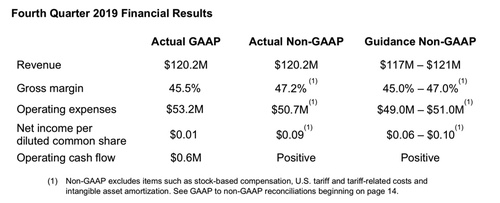 For full-year 2019, Calix reported revenue of $424.3 million compared to $441.3 million in 2018, a decline of 4%. Non-GAAP gross margin for all 2019 was 46.2%, GAAP margin was 44.3%. For all 2018, by comparison, non-GAAP gross margin was 45.7% and GAAP margin was 44.7%.
Into the quarterly weeds
Digging into Q4 earnings a little deeper, Calix's legacy systems continue to impact the company's bottom line.
Systems revenue for Q4 2019 grew 7% compared to the year-ago quarter due to demand for Calix Cloud, EXOS and AXOS platforms. This bump in revenue was, however, partially offset by "continued pressure" on legacy systems revenue, Russo wrote in a letter to shareholders.
Revenue for services dropped 21%, to $8.21 million, in Q4 2019, versus 12 months prior when they were $10.44 million. Calix is ramping up its next-generation services centered on differentiators such as marketing, increasing operator revenue and helping providers find new markets and opportunities, but advances in these margin-rich offerings continue to be heavily offset by its legacy professional services, which focus on Connect America Fund (CAF I and CAF II) contracts with low margins and more hand-holding.
No such thing as overnight success
The transition from Calix 1.0 -- a traditional, proprietary hardware-focused communications vendor -- to today's San Jose, Calif.-based model which is wrapped completely around platforms, APIs and the cloud, is a time-consuming venture. In earnings calls over the past few years, Russo consistently cautioned financial analysts to be patient.
Russo can't stop relaying that message, despite the positive return for the quarter.
"[The] margin shift we have messaged consistently will be driven purely by the go-forward growth of the platform business," Russo said, replying to a question on the earnings call. "[As] the software business grows and some of our older, traditional products slowly decline, ... I want to be careful about anybody drawing a straight line through quarter-by-quarter [margins growth], because there [are] likely going to be ups and downs on a quarterly basis, while over the long term there is no question it's going to go up."
Breaking down the customer base
Positive revenue results took longer than Calix expected (or wanted) in part due to sluggish buying trends over the last 12-18 months by large customers like CenturyLink, Russo said. This impacted competitors in the fixed-access broadband space, too, each of which eagerly awaited providers' technological decision-making on topics such as EPON or GPON, XGS-PON versus NG-PON2, full-fiber or DOCSIS 3.1 or HFC or a combo approach, and so forth.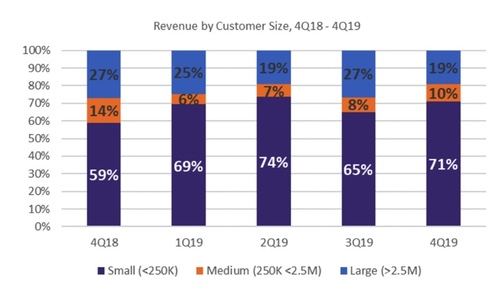 Also, customers CenturyLink and Frontier missed their CAF II targets, which lowered their spending at Calix (and other fixed-access vendors). For the year, revenue from large customers accounted for 22% of total revenue and declined 15% year-over-year. Revenue from medium customers (8% of monies in 2019), declined 24% last year versus full-year 2018, primarily because this group of providers lessened broadband investments as their subscriber bases shrank. On the other hand, small customers made up 70% of all revenue last year, and that revenue grew 3% in 2019 versus 2018.
Clearly, although the base of small providers is growing, the much smaller purchase-volume and lack of internal technical staff places more stress on Calix sales and marketing teams. Yet Calix signed on 20 new customers in the last three months of 2019, generating 100 total new customers for the second consecutive year.
Calix Cloud revenue quadrupled for the year, and Calix expects similarly strong results for other offerings. In Q4, the revenue-ads solution that leverages Calix Cloud and AXOS systems became available to provide operators with real-time subscriber insights and new revenue-generating suites that reside on the edge of the network, designed to equip operators to support home WiFi and reduce opex by curtailing truck rolls and enhance subscriber "stickiness" and customer satisfaction by reducing problems consumers associate with WiFi or connected devices. These offerings also allow operators to enter new markets such as security, managed WiFi, home health, gaming and teleworkers, Greg Owens, senior director, product marketing, at Calix told Broadband World News.
And AXOS has more than 75 10-gig PON deployments, Calix reported. Also, Calix itself has moved all its enterprise resource planning (ERP) and IT infrastructure to the cloud, demonstrating it's not just talking the cloud talk but also operating on cloud architectures.
"In retrospect, 2019 was a year of significant transformation for Calix. It is clear, we are positioned to ride the wave of secular disruption moving through the communications service provider marketplace," Russo said. "[We] intend 2020 to be a year of continued expansion of our platforms in the market as well as the year of revenue and profit growth."
Related posts:
— Alison Diana, Editor, Broadband World News