Although GPON currently dominates the next-generation PON market, pending decisions by Tier 1 MSOs and international operators could upend that trend and tilt the scale toward EPON.
For years, the two industry bodies guiding each version of the passive-optical network iterations tapped the same wavelengths, allowing legacy networks to use the same passive devices such as splitters and fitters. The International Telecommunications Union (ITU) developed GPON at about the same time the Institute of Electrical and Electronics Engineers (IEEE) developed EPON standards. In the world of 10Gbit/s PON, both ITU and IEEE use the same wavelengths for XGS-PON and 10G PON.
This remains true in the world of 10-gig PON, with both standards bodies using the same wavelengths for XGS-PON and 10G PON.
"It's the same approach for 10-gig PON," Jess Beihoffer, director of sales (engineering) at ADTRAN, told Broadband World News. "[Both standards] benefit from an ability to allow co-existence with legacy PON deployments, thus improving optical distribution network efficiency and the migration strategy," he added, in a recent BBWN webinar.
The total global PON equipment market will increase compound annual growth rate of almost 21%, adding about $28 billion in sales, between 2019 and 2025, according to an October 2019 report from ResearchAndMarkets.
GPON alone could grow about 21.6% in that timeframe, accounting for sales of more than $18.7 billion by 2025, the researchers said.
"I don't think it's any surprise the gain GPON had in 2008-2010 timeframe. ITU stepped up and GPON was heavily adopted by telcos, who are historically guided by the ITU," Beihoffer told Broadband World News. "We see a lot of momentum and continued momentum with GPON and ITU PON in the industry, or I have. That's created a segue for the early adopters of PON to continue along the ITU path with XGS-PON or some kind of 10-gig PON migration strategy with their own particular vendors' proprietary path."
But EPON is popular in Asia, where China alone represents an enormous market, researchers said. In the US, many Tier 1 operators have yet to decide or heavily invest in either PON path, Beihoffer said. "It's by far not a slam-dunk," he said.
In fact, cable operators are deploying both EPON and GPON, although not yet at the same rate as CSPs, research suggests. In "Cable's Fiber Outlook Report," produced by Light Reading and Heavy Reading in partnership with ISCTE/ISBE, cable operators expect 30% of subscribers will connect via FTTH/FTTP by 2024 -- and 10G-EPON will enable almost 22% of these connections, while XGS-PON will empower 13%, the study said. Many respondents also will deploy DOCSIS and distributed access architecture (DAA), the Light Reading report said. Others recognize the need for PON but have yet to decide between GPON and EPON. For example, almost 54% of cable operator executives said new product introductions -- such as managed services, GPON/EPON -- would be the fiber catalyst to drive their inventory upgrade or replacement.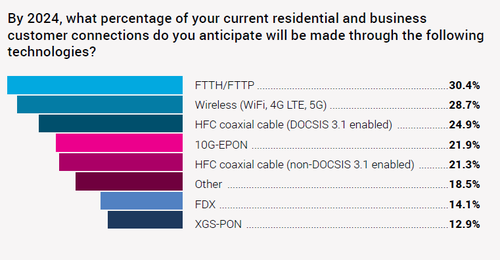 The impetus for operators' PON pondering includes the usual suspects: a global and ongoing surge in data traffic, especially symmetric traffic, plus demand for higher bandwidth applications, both of which require operators to technologically upgrade their network infrastructures. The downside: Installation and operational costs, as well as finding staff skilled in relevant technologies and solutions on offer from vendors such as ADTRAN, Calix, Ericsson, Huawei, Nokia and ZTE, the research noted.
EPON on their minds
"Where we are seeing the biggest question of whether to go EPON or GPON is with larger operators who have not yet put a significant investment in fiber-to-the-premise[s] or fiber-to-the-home deployment and they're taking a step back and really looking at the economics and where the world is going," Beihoffer added. "[Plus] the influence they have with CableLabs and CableLabs driving the DOCSIS provisioning spec for OEM extensions in EPON created an environment that allowed them to extend their existing back office solutions so there's a minimal amount of impact to deploy EPON. I've seen them starting to take a step back and, before they invest a whole lot, try to determine that it will be a winning strategy before they move forward. I think the decision is there's no winning technology: They're both going to be very suitable."
GPON has a larger deployed base among smaller fiber-only operators in the US, as well as among some European operators. For its part, EPON has adherents in Europe and a lot of traction in Asia, Ovum research shows.
NG-PON2, the next-gen standard for GPON, is lauded for its technological capabilities, but bemoaned for its reliance on expensive tunable optics. Verizon is deploying NG-PON2 with Calix, a move some hope will accelerate price drops; others, however, say even the volume Verizon generates still will not force price points low enough for mass adoption of NG-PON2.
EPON's roadmap includes an accelerated arrival at 50-gig EPON and beyond, Beihoffer said. "We have very good reason to think that will be the case," he explained. "There is a growth and a migration path well beyond 10-gig," he said. "The big question is whether or not it's going to go and capture any of the existing ITU market, which is something I haven't seen."
Related posts:
— Alison Diana, Editor, Broadband World News. Follow us on Twitter or @alisoncdiana. Like what you read: Sign up for our weekly newsletter.
(Home page image: qimono Pixabay)