A lot of consumers opened an ultra-high-definition (UHD) 4K set for their holiday in preparation for a richer visual experience while watching the Super Bowl or Wimbledon, stream classic movies or watch a video on demand. Whether their tastes run to Alfred Hitchcock or Robyn Hitchcock, users of 4K and upcoming 8K televisions will require fixed-broadband home networks to maximize their new acquisition.
After all, Santa and his helpers delivered tens of thousands of 4K televisions seeking high-speed broadband from operators' networks. And soon, if Consumer Technology Association analysts are correct, those 4K units may be relegated to guest rooms or the kids' preferred in-home hangout in favor of next-gen 8K TVs that demand more of home networks and promise a better visual experience.
Give me a K
The US will start to see 8K television sets this year, even as shipments of 4K Ultra HD sets increase 14%, according to research by Consumer Technology Association (CTA). In its semi-annual report, "US Consumer Technology Sales and Forecast," CTA estimates vendors this year will ship 200,000 8K TV units worth revenue of $545 million. By 2022, 1.5 million 8K TV sets will ship in the US alone, the research firm predicted.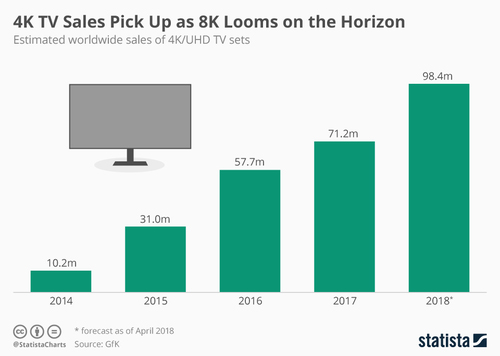 4K finally began making giant strides into the US market once content creators beyond Amazon and Netflix developed content for it, according to
Maria Aguette of IHS Markit
. By October 2018, 4K accounted for more than half the TV shipments entering China, Western Europe and North America but availability was still low, she wrote in a blog on the research firm's website. The main reason? Inadequate infrastructure, i.e., content and related production houses, Aguette explained.
Worldwide, more than 100 million 4K UHD TVs will be sold, Futuresource Consulting estimates. That puts more pressure on service providers, utilities and municipalities to deliver fiber-based broadband access -- or something equivalent -- to all households, including those in rural, suburban and economically depressed regions.
Whereas other parts of the world quickly caught on, recognizing they must produce content that made the most out of 4K TVs' ultra-high definition (UHD) or high dynamic range (HDR), the North American market lay relatively fallow, devoid of much content that took advantage of the hardware's new powers, content that (with exceptions such as Netflix, Amazon and Hulu) used the same old, same old rather than attract more viewers through new vibrancy, electrifying colors and an explosion of sights and sounds.
HDR faces lack of content challenges too, according to AT&T, which began offering 4K video-on-demand in November 2014, linear UHD in April 2016 and HDR in December 2017. Of the multiple HDR standards available, AT&T primarily uses Hybrid Log Gamma (HLG) for linear 4K HDR broadcasts and HDR 10 for video-on-demand. The option of using the best-suited standard for the content -- live sports versus VoD versus newscasting -- gives service providers more control over quality.
Even as producers -- including a growing number of service providers -- kickstart content creation, consumers are buying 4K TVs. Of the total flat panel TV units sold in 2017, 4K units represented one-third and accounted for about 44% last year, according to ABI Research. More than 85% of households worldwide own flat-panel TVs; with such high penetration, sales growth has slowed, but the transition from high-definition to UHD is impressive enough that consumers are switching before sets die, said Khin Sandi Lynn, an ABI Research industry analyst.
With content at a premium, service providers themselves increasingly are getting into the director's chair. In Russia, pay-TV provider Tricolor TV launched 4K movie channels in late 2018. Both Verizon and Frontier Communications tested 4K services, and other operators across the world are heavily investing in new or expanding content-creation divisions or sister companies.
"Better visual experience and availability of 4K content together with declining price points are driving 4K TV set shipments," Lynn added.
Related posts:
— Alison Diana, Editor, Broadband World News. Follow us on Twitter or @alisoncdiana.