Chorus, New Zealand's largest provider of fixed-line communications infrastructure, sings a five-part harmony about transforming the customer experience, enabling people, optimizing its performance, innovating through new services and doing everything digitally.
As CEO, Kate McKenzie conducts Chorus. The veteran telco executive, who previously worked at providers including NBN, enthusiastically shares why this role and this industry, are so exciting and fulfilling.
"Before I got into telco, I had a strong background in other infrastructure type industries. My first entrée was via regulation and public policy skills," she told Broadband World News. "I began to see how transformative the Internet was being, both in society and going forward, the intellectual fascination. The complexity of managing all that is an entrancing combination."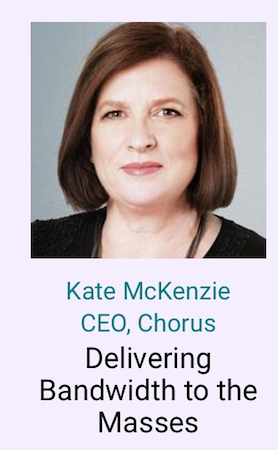 Chorus delivers more than 85% of all fixed network connections to retail service providers across New Zealand. Chorus -- which NZ's Parliament
recently prevented
from expanding into "above Layer 2" services -- is barred from retail activities, McKenzie said. Rather, it installs most of the government's ultra-fast broadband (UFB), which is then leased to commercial operators.
Being a wholesaler allows Chorus to take a longer-term view, despite answering to shareholders. Fiber, after all, takes time to deploy, she said. That's especially true when discussing vast networks versus networks designed to serve a small housing development.
"We are building full fiber to 87% of New Zealand. It is only partially government funded. There are three other providers, including ourselves," said McKenzie. "I think it's unique to New Zealand... All over the world people are trying to deal with the tsunami of data and what do we do about it. The people of NZ showed foresight in acting beforehand."
Tech talk
Chorus continues to invest in copper -- primarily VDSL and Gfast -- but the vast majority of its funds go toward fiber, said McKenzie.
"Definitely, 80% of our investment is going into fiber. We're about to go into our peak build year," she explained. "We will finish the build in 2022 but we also have a pretty good copper network here so, particularly in the last 13% and where we're competing with other providers, we continue with VDSL. About 80% of our lines are VDSL-capable. There, we invest in upgrading, meeting capacity. But the vast majority of the spend is to deploy the fiber."
---
Kate McKenzie has been nominated for the 2018 People's Choice Broadband Award. Take a look at the shortlist and cast your vote!
---
In low-density, sparsely populated areas, Chorus has used some radio networks in partnership with wireless providers. Like providers around the world, Chorus considers multiple technologies to serve rural residents, looking to eliminate the digital divide without breaking its budget.
Chorus was founded in 2010 when the government recognized all regions needed broadband connectivity and entered into a public-private partnership (P3) with Chorus and Vodafone. Chorus, initially spun out of a government department, became a separate, publicly traded business and received copper, ducts and poles in
December 2011
. The other unit, dubbed Spark, got wireless.
Three years later, Vodafone installed 104 new towers and upgraded 305 other towers, expanding mobile broadband coverage in rural areas to an additional 231,010 residences, according to the Centre for Public Impact. At that same time, Chorus -- tasked with providing "a super fast fiber broadband connection to the new Vodafone mobile broadband towers as well as linking in with over 1,000 schools, 183 libraries and 50 different health providers" -- upgraded and installed more than 81,000 lines across the country at an 80% uptake, the Centre reported.
Related posts:
— Alison Diana, Editor, Broadband World News. Follow us on Twitter or @alisoncdiana.