More excited residential, SOHO and SMB customers can text, message, call and talk over hedgerows and fences about the imminent arrival or newly deployed fiber in their town, how it will change their lives and vastly improve their business or work habits.
For the most part, they're right. Add the expected benefits of 5G, which is already in trial among a growing number of providers in various parts of the world, and anticipation reaches another level of fervor. Each
But as service providers are all too well aware, managing customers' expectations to ensure they don't expect life to suddenly be full of cupcakes and unicorns is challenging -- especially when everyone from the local TV news and newspapers to national TV, glossy magazines and the one third of the Internet not devoted to Trump dedicate much of their time to 5G.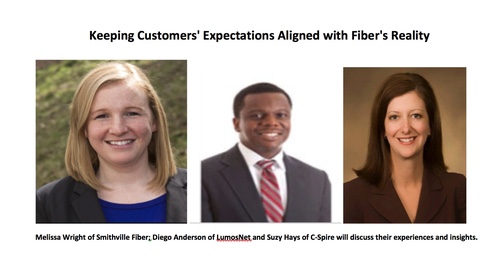 During a webinar tomorrow, "
Managing Expectations When Fiber Comes to Town
," industry executives will share insights into consumers' fiber expectations, concepts and misconceptions, as well as how providers can manage consumer expectations when they deploy fiber or new services. Industry leaders will discuss how to manage marketing and consumer expectations in every stage of the network lifecycle -- a critical skill for marketing professionals, c-level executives and policymakers who are tasked with driving up fiber sales.
The Light Reading webinar, which begins at 2:00 p.m. ET (11:00 a.m. PT/7:00 p.m. BT), features Melissa Wright, Manager, Project Management at Smithville Fiber and Suzy Hays, Chief Marketing Officer for C-Spire, as well as Diego Anderson, Senior Vice President and General Manager of the Residential and Small Business Segment at LumosNet. Sponsored by the Fiber Broadband Association, the hour-long event will be moderated by Broadband World News Editor Alison Diana. The webinar is being produced in partnership with the Fiber Broadband Association.
Topics will include fiber reliability; managing scheduled and unscheduled outages; handling new-service deployment, education and integration; forcing disconnects as copper-based services end; benefits, challenges and disadvantages of building a reputation of superior customer service; and more.
Bring your questions and comments so you can join the conversation. This is designed to be a lively webinar, with lots of interaction between all participants and the audience of marketing professionals, c-level executives and policymakers interested in drumming up fiber envy among their prospects.
No unicorns. Bring your own cupcakes. But lots of great insight.
Related posts:
— Alison Diana, Editor, Broadband World News. Follow us on Twitter or @alisoncdiana.