Next-generation access technologies have propelled about three quarters of European Union households into the ultra-broadband era.
Powered by private providers and government efforts, by the end of June 2016 75.9% of EU households could receive services of at least 30 Mbps download speeds, according to a new report conducted by IHS Markit for the European Commission. In fact, 12.8 million new European homes gained access broadband via next-generation access networks, The Broadband Coverage in Europe 2016 study found.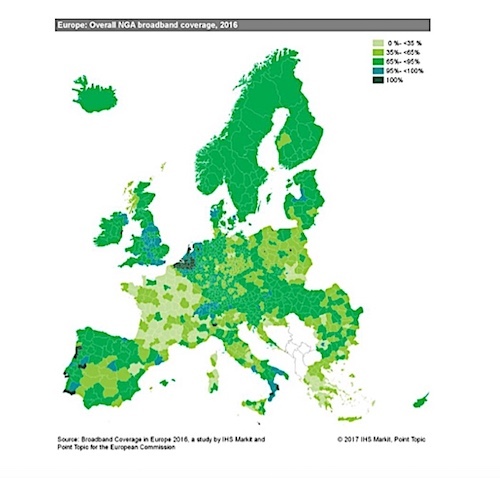 In the study's timeframe, overall fixed broadband access nudged up slightly to 97.5% in 2016 for the EU versus 97.3% in 2015. In terms of technologies, VDSL saw continued dramatic growth, increasing 7.1% between 2015 and 2016 to reach 75.9% of the continent's households.
Because it uses copper, VDSL (and Gfast which was not broken out in this report) is typically faster and less expensive to deploy than fiber, making it an attractive alternative for many providers -- especially as it reaches comparable speeds. Since 2013, VDSL has been the fastest growing fixed broadband technology the study tracks, said Alzbeta Fellenbaum, principal analyst at IHS Markit and manager of this project.
"For instance, VDSL coverage in Italy more than doubled during the 12-month period to mid-2016, as coverage increased by 33.6%," Fellenbaum said in a statement. "Iceland, Germany, Hungary and Slovakia also witnessed double-digit growth in VDSL coverage during the 12-month period to mid-2016." The number of European homes covered by fiber-to-the-premise grew 3.4% in that timeframe, reaching 23.7% of potential subscribers, IHS Markit determined. LTE dominated, and 96% of EU households could use this access technology by June 2016.
FTTP access varied a lot, country-by-country. Greece and Belgium, for example, had limited access to fiber at 0.6% and 0.4% respectively. The United Kingdom, whose operators are more focused on VDSL, had FTTP coverage of 1.8%.
DOCSIS 3.0 (the study did not cover DOCSIS 3.1) coverage increased to 43.9% last year compared with 43.2% in 2015, the researcher said. It's unclear whether the 0.7% growth would have been higher had DOCSIS 3.1 been included since some European operators are implementing this technology.
The report covers the EU 28, plus Norway, Iceland and Switzerland.
Related posts:
— Alison Diana, Editor, UBB2020. Follow us on Twitter @UBB2020 or @alisoncdiana.