Every baseball team needs a big bat in its lineup. And every stadium needs a big pipe to support the tens of thousands of fans who come to enjoy each game.
That's especially true for the Atlanta Braves, which this year moved into SunTrust Park, part of a 1.5-million square foot residential, business and entertainment development that uses continuous WiFi and ultra-broadband as a competitive differentiator.
Although baseball (literally) takes center field, the Braves wanted to enhance the fan experience beyond Major League Baseball's 81-game schedule, Greg Gatti, senior director of information technology, told UBB2020. With this green-field opportunity for a new stadium, the organization sought to deliver high-tech services to game attendees and expand into new potential revenue streams and customer engagement via Battery Atlanta.
"It really was meant to be a live/work/play environment year-round for our fans," Gatti said.
Power hitters
The Braves turned to long-time partner Comcast to help design, then implement and support the development's network. To ensure future-readiness and deliver complete redundancy, Comcast implemented two 100-gigabyte fiber optic cable pipes as part of its Xfinity solution, the backbone of the Braves' existing -- and future -- uses, such as augmented and virtual reality, said Eric McLoughlin, director of product management for Comcast, in an interview.
"If we have 41,000 fans in the stadium and they're all utilizing their devices at the same time, we wanted the network to be capable of supporting that activity," he said. "So that's where we came up with the 100-gig Internet transport, which is the backbone of what we're providing. We do that with two 144-count redundant fibers feeding the Battery; redundancy is, again, key so that we can provide a great solution that never has an issue if a fiber gets cut."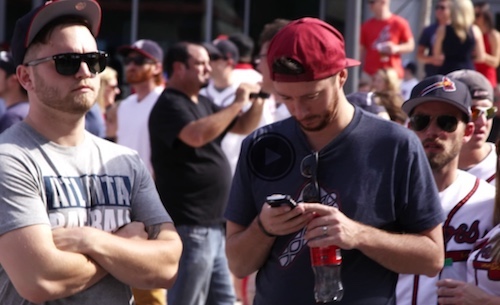 Fan-tastic
Perhaps stadiums' biggest competition are fans' own large-screen, high-definition TVs, complete with commentators' analysis and sidebars, said McLoughlin. Artificial reality could allow game attendees to focus on a player, then see his stats and other data on their device, he said. And by creating an ecosystem beyond the ballpark, consumers are more likely to spend time at the complex's restaurants, stores and hotel, added Gatti.
But these are only a few of the many revenue-creating opportunities the Braves and Comcast predict. In fact, since the stadium's debut on the team's Major League Baseball opening day, the Braves have only just begun to see how they can monetize their network and development.
"[ROI] is still an evolving process. In the Battery, we have tenants. We're 50% owners of the hotel, we have the office space, so the lease revenue for the Braves -- for our office space, the hotel and all the residents in the Battery -- is a new revenue stream for us," said Gatti. "There are metrics around what's expected, around what we can achieve there. For Comcast, they're the exclusive last-mile provider for everything in SunTrust Park and the Battery and they're delivering all these connected services to residential so I'm sure they have high expectations of return on investment. What we're still wrapping our heads around is our business at Turner Field compared to what we have [now] is drastically different. I think it's going to be 18 months to a two-year process for us to get a handle on really understanding how much our business needs have changed."
Play ball.
Related posts:  
  — Alison Diana, Editor, UBB2020. Follow us on Twitter @UBB2020 or @alisoncdiana.