When it comes to prioritizing their next-generation expenditures, cable operators are evenly split between DOCSIS 3.1 and extending fiber, according to a recent UBB2020 reader poll.
Almost 30% of respondents said rolling out DOCSIS 3.1 and gigabit speeds were the biggest priorities for cable operators this year. An equal number said extending fiber deeper into the access network was job number one. In addition, 14.3% claim implementing a Distributed Access Architecture approach led the list of priorities, while 12.7% were focused on integrating OTT video services into existing video offerings, according to the poll. Finally, 9.5% will begin virtualizing key network functions, and another 9.5% want to develop and deploy a competitive wireless service.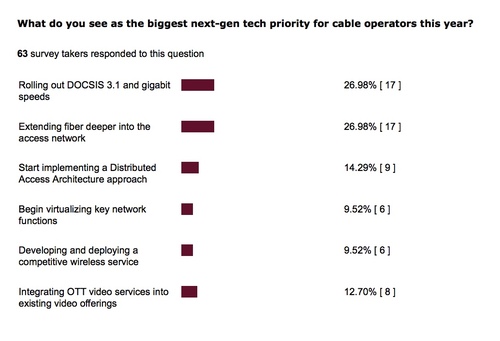 Recent headlines support the survey's results: Within the past few days, Verizon disclosed plans to spend at least $1.05 billion over the next three years on optical equipment for fiber deployments from Corning, and Crown Castle spent $600 million to acquire fellow-fiber network operator Wilcon.
What's more, earlier this month Mediacom Communications launched 1 gigabit Internet speeds in Minnesota, based on its DOCSIS 3.1 deployments, while Liberty Global shared its plans for more widespread DOCSIS 3.1 implementations in Europe later this year.
Don't forget to take UBB2020's new reader poll: "Upping Your Home's IQ," about smart-home devices and services. Intelligent furniture anyone?
Related posts:  
  — Alison Diana, Editor, UBB2020. Follow us on Twitter @UBB2020 or @alisoncdiana.