After what its CEO described as a "speedbump" in 2019, Dasan Zhone Solutions is expecting a year of growth driven by 5G network investments in Japan and South Korea.
The vendor, which sells broadband access gear and aggregation switches to network operators around the world, reported full-year revenues of $306.9 million, a year-on-year increase of 8.7%, but that was mostly due to the addition of German vendor Keymile, which was acquired at the beginning of last year. (See DASAN Zhone reports Q4, full year results.)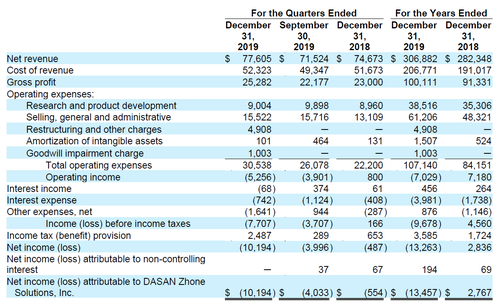 Now, despite the impact of the coronavirus on its supply chain, Dasan Zhone is expecting an uptick in revenues and improved margins in 2020, with 5G investments driving that growth.

On the company's recent earnings call, CEO Yung Kim noted that while operators in general were uncertain about the timings of their migration from copper to fiber access systems, demand for the company's fronthaul and backhaul systems is growing as operators ramp up their 5G investments.
The good news for Dasan Zhone is that it is already well placed with the mobile operators in South Korea, one of the leading 5G markets in the world, and recently secured a deal worth "tens of millions of dollars" with a key Tier 1 carrier in Japan," noted the CEO. "As a result of that deal, we have the strongest pipeline of 5G-related business we have ever had," with the first shipments expected to be made in the second quarter.
While Kim did not name the operator, Dasan Zhone was selected in November 2019 as a fronthaul technology supplier by Japan's greenfield operator Rakuten Mobile, which is set to launch services on its new network in the coming weeks. (See DZS to deliver 5G fronthaul solutions to Rakuten Mobile and Japan's Rakuten gives new meaning to 'bill shock'.)
And with SoftBank also a customer, Japan is set to overtake South Korea as Dasan Zhone's main sales market in 2020.
The CEO puts this down to the company's decision to tackle specific 5G transport opportunities. As a result of the company's R&D focus in the past two years, developing technology designed for 5G fronthaul, midhaul and backhaul applications, "we are better aligned strategically with our customers than at any other time in our history," said Kim.
And in South Korea, the prospects could be even brighter as a result of an investment pledge made this week by the country's mobile operators. (See DZS Lands 5G Anyhaul Deal from KT and South Korea's big three squeezed for more 5G investment.)
The analyst team at investment bank B Riley FBR certainly think so. In an investment note following the capex pledge by the South Korean operators, analyst Dave Kang stated: "We believe this is a part of the government's stimulus programs to counter the impact of coronavirus on the economy. In our optical coverage, Dasan Zhone would be the main beneficiary from the increased 5G capex, since the company is a supplier of 5G equipment to all three service providers. We believe SK Telecom was the top customer in 4Q while LG U+ was the top customer in 2019."
But it's not all about Asia. The CEO noted that a new sales team has been put in place to revive the company's fortunes in North America, where sales dipped in 2019, while a new suite of products is now being targeted at customers in Latin America, where there has been "heightened competition from the Chinese vendors." In recent times, the company has had more success in the Middle East and Africa – Kim cited Saudi Arabia and Egypt as two key markets – and noted that customer engagement has increased recently in Europe, where Keymile now acts as the anchor operation.
The CEO also said there was still increasing interest in next-generation fiber access developments and access network virtualization, related to ongoing 5G network planning, and that these areas would be vital to the work done at the vendor's planned Engineering Center of Excellence in Plano, Texas, which will also be the site of the company's new headquarters.
"While we will continue to have a presence in Silicon Valley" – the company is currently headquartered in Oakland, California – "this move marks an important evolution in our company's history … The Dallas Metroplex has a strong pool of world-class engineering talent who are leading innovation in advanced communications technologies – especially in many of the most exciting fields of next generation wireless and network abstraction and virtualization."
But, as with many equipment vendors, the impact of the coronavirus could hinder the company's prospects and push out planned investments by network operators. Dasan Zhone's share price has taken a hammering in the past month, down by 59% to $4.02. The vendor will be hoping the virus impact is short-lived and that network operators invest as planned.
— Ray Le Maistre, Editor-in-Chief, Light Reading, special to Broadband World News