BBWN Bites: Cable increases its dominance of US broadband market

In this broadband sector news roundup: US cable cements its broadband stronghold; Italians at loggerheads; CityFibre shifts up a gear; UK's FTTH market linked to more funding; Canada's Xplornet snapped up for $2 billion.
Cable operators ended 2019 with 67% of all fixed broadband connections across the US, according to a study by the Leichtman Research Group of the largest network operators across the country that represent 96% of the market. Between them, those large providers ended last year with 101.2 million broadband customers, of which the cable operators accounted for 68 million. That's cable's largest share of the US broadband market in almost 20 years. For the breakdown, and to see how many broadband subs the main telcos lost, see the table below. (See US cable ended 2019 with 67% of broadband share .)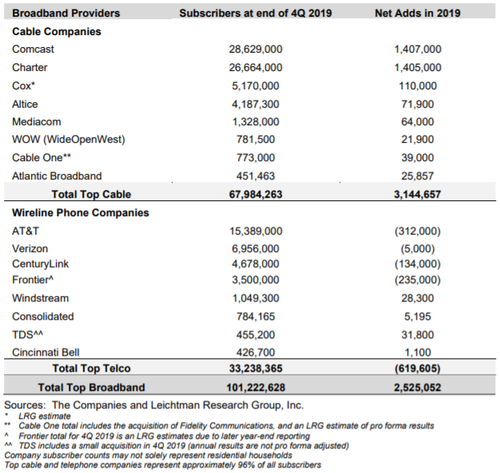 Italian incumbent operator TIM (Telecom Italia) has been handed a €116 million (US$131 million) fine by Italy's antitrust authority (the AGCM) for alleged anti-competitive behavior in rural areas. But the operator is appealing the fine, saying it had cleared up the cause of its actions with the country's regulator, AGCOM. As our colleagues at Telecoms.com point out, what's most intriguing here is that the case pitches "the regulator in direct opposition to the antitrust authority." It's possible that everyone could be a loser by the end of this squabble.
In the UK, altnet CityFibre continues to accelerate its planned £4 billion ($5.2 billion) fiber rollout by kickstarting the process to award construction contracts sooner than originally planned. While some regard CityFibre as an upstart that won't be around too long, there's no doubt its bullish approach to providing an alternative access infrastructure platform to the one offered by BT's Openreach has stimulated the UK fixed broadband market, and not before time.
Speaking of which… today's announcement that the UK's mobile operators were to collaborate on shared infrastructure to deliver mobile broadband to remote areas of Great Britain included the following line: "The government has also pledged £5 billion to subsidise the roll out of gigabit capable broadband in the harder-to-reach areas of the country." This appears to be a reference to the UK government's 2019 pledge to put all Brits within reach of a fiber line within five years. The new UK chancellor, Rishi Sunak, will deliver his first budget this week – watch out for more details then.
Any such details will come under even greater scrutiny than ever because a group of UK MPs have just formed a DCMS (Digital, Culture, Media and Sport) select committee to look at whether the government's ambition to deliver gigabit broadband to every UK home and business by 2025 is realistic (or just alcohol-induced poppycock). The committee is seeking evidence, from anyone who wishes to offer it, until April 2. See this statement for more details.
Could this be a good time for UK altnets to seek new funding? G.network, which is laying fiber in London, sure hopes so, as it's reportedly looking to raise about £200 million ($260 million) to further expand its network. Find out more about G.network in this ISP Review article.
Indiana-based MetroNet is to acquire Jaguar Communications, which runs a fiber network in Southern Minnesota, for an undisclosed sum. MetroNet says more details wil be made available once the deal has been completed, which is expected "in the coming months."
And here's one from a few weeks back but which only just caught our eye… Stonepeak Infrastructure Partners is buying a controlling stake in Canadian rural broadband service provider Xplornet Communications, which serves its customers with fixed wireless and satellite connectivity. Bloomberg reported the deal to be worth about $2 billion. The news came only weeks after Xplornet announced it was acquiring Silo Wireless, a rural provider operating in southwestern Ontario.

— Ray Le Maistre, Editor-in-Chief, Light Reading, special to Broadband World News