BBWN Bites: Italy's TIM turns to KKR for broadband inspiration

Also in this smorgasbord of broadband and optical network news: Virgin Media boasts of "insourcing"; Megacable invests in GPON; KPN goes big on Gigabit; Huawei and Ciena boast 800G action with operators; the Broadband Forum gives out gongs; and more.
Beleaguered Italian incumbent operator TIM (Telecom Italia) has reportedly accepted the advances of US investment firm KKR, which wants to help develop the telco's broadband network strategy, reports Reuters. There's some indication that this might herald a merger of TIM's fixed access network assets with the alternative fiber network builder Open Fiber, but there would be a lot of regulatory, political and financials hurdles to be overcome before such a relationship could be brokered, even though the Italian government is keen on such a marriage.
UK cable operator Virgin Media is proudly boasting that it is "insourcing" (yuk!) its field engineering team so that its own staff, rather than those from partners, are visiting customers' homes and buildings to conduct installations and repairs. The move will see Virgin Media hire more than 700 engineers, taking its total number to about 1,800. At the same time, the operator has also awarded contracts worth £500 million (US$639 million) per year to six partners that will help to roll out its expanding broadband network. The six companies are Kier, Actoavo, Avonline, NMCN, Comex and Kelly.
In Mexico, Megacable, which has about 3.1 million broadband customers, is planning to invest in GPON access technology, a move that will see its capital expenditures increase during the next couple of years but, company officials said on the a recent earnings call, result in greater efficiencies in the medium and long term. The operator didn't specific exactly how much will be invested in GPON-related technology and construction costs, but noted that its capex budget would increase to $400 million in 2020 from $340 million in 2019 and decline after 2021. Luis Antonio Zetter Zermeño, CFO at Megacable Holdings, noted on the call that the "fiber investment, once if in place, will generate cost savings in terms of network operation and maintenance ... This investment does not affect shareholder value; rather it enhances it."
Dutch national operator KPN has launched a Gigabit broadband service, with 1 Gbit/s downstream and 500 Mbit/s upstream, for €65 per month. The service is available to 1.2 million households. KPN has more details available here.
Content is (lion) king, they say, which is maybe why the Europeans are falling over themselves to team up with the Disney+ streaming service, which is set to launch on March 24 in the UK, Ireland, France, Germany, Italy, Spain, Austria and Switzerland. Sky has agreed a multiyear deal with the Mickey Mouse organization to bring Disney+ to its Sky Q platform and (ultimately) its non-subscription Now TV offering in the UK and Ireland. In Germany Deutsche Telekom is reportedly keen on a tie-up.
The Broadband Forum has been handing out awards. While some may say it's shocking that Bong Joon-ho's Parasite didn't feature in the list of winners, BT's Kevin Foster could be considered somewhat greedy, walking away with two awards. Want to know who else was a winner? (See Broadband Forum hands out awards.)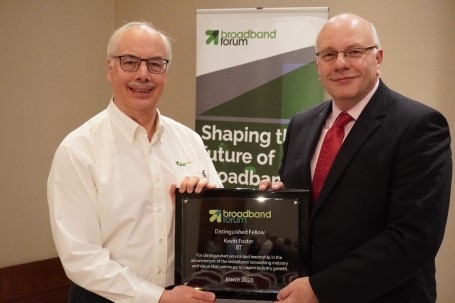 In the optical transport world, Turkcell has undertaken an 800G WDM trial over a point-to-point connection on its production network, using technology from Huawei.
Ciena, meanwhile, has been busy in the US. It worked with Juniper to enable an 800G single-wavelength transmission on the Verizon network and enabled a long-distance 600G single-wavelength pilot deployment on Comcast's network. These feats (including the Turkcell/Huawei effort) would have made for great discussions at the upcoming OFC event in San Diego, which is still set to go ahead, but unfortunately Ciena, Juniper and Verizon are among the companies that have withdrawn from the show due to concerns related to the Covid-19 outbreak. Let's all hope that the whole ecosystem gets to meet this time next year under less trying circumstances. (See OFC management: 500 sponsors and exhibitors are planning to attend.)

— Ray Le Maistre, Editor-in-Chief, Light Reading, special to Broadband World News