THE HAGUE, Netherlands -- As one of the leading FTTH players in Europe, Orange is tracked by other network operators seeking guidance on the best migration path to next-generation fixed broadband technology deployments.
Eyebrows might be raised, though, at Orange's plans for 10G PON.
Talking here at the Broadband Forum's Ultra-fast Broadband Acceleration Seminar (UFBB BASe) event, Christian Gacon, Orange's VP of Wireline Networks and Infrastructure, noted the operator's progress to date with its GPON-based FTTH deployments in multiple countries, most notably France (obviously!), Spain and Poland. Orange identified fiber-to-the-home/premises as a key element of its Essentiels2020 strategy announced in 2015 and has been investing heavily in its fixed access network in recent years: It sunk €1.5 billion in capex into its FTTH network rollouts in multiple markets in 2018.
In total the operator had almost 7 million FTTH customers across its group (end of first quarter 2019 figure), with its largest market being… Spain! Yes, it has more FTTH customers in Spain (2.9 million) than in France (2.6 million). One of the main reasons for that perhaps surprising stat is that the Spanish regulator, along with the other operators in the country, has "made it easy to share passive infrastructure, making deployments much more cost-effective… We share in France too, but they have been more clever in Spain -- they have made it easier."
Now Orange is looking at how and when it will upgrade its fiber access networks to 10G PON to support the still growing volumes of traffic running over its networks (video is the main culprit) and, of course, support its 5G "anyhaul" requirements.
"NG-PON2 is far too expensive," noted Gacon, echoing recent views on the technology championed by Verizon. (See NG-PON2 Tunable Optics Prices Too High for Nokia.)
So Orange is preparing to deploy XGS-PON as its next step, but in what appears to be a rather controversial way. The Orange exec noted that the current plan is to migrate from GPON to XGS-PON by deploying what are known as 'combo cards' -- line cards that enable both technologies on the same blade and which can be used in existing physical (optical line terminal) chassis. This would avoid the need for forklift upgrades or costly changes to the access network architecture (though of course new customer premises equipment devices would be needed when 10G PON services are provisioned).
That is a somewhat controversial move: Such combo cards have already been developed for and deployed by the operators in China and, as a result, are already available from Chinese vendors (Huawei and ZTE). "The combo cards are economic… it is the best option where you already have a network in place," noted the Orange executive.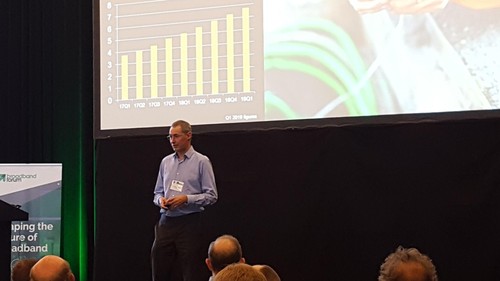 He was soon questioned on this from members of the audience, wanting to know why combo cards make more sense than a 'co-existence' strategy of deploying GPON and XGS-PON side-by-side (but not in the same line cards): The sense from the audience was that the co-existence option was the one that offered the more suitable medium- and long-term strategy.
Gacon reiterated that financials drove the combo-card strategy. "Co-existence is the best solution technically," he said, "but we cannot start our XGS-PON deployments with that strategy because it's too expensive," he noted very matter-of-factly. "We have looked at this issue for years. Co-existence is the best technical option, but we can't afford it," he added, noting that Orange's FTTH investments are due to flatten out in the next few years as more capex will be needed to support 5G radio access network rollouts. Meanwhile, the combo card option for XGS-PON is affordable, he stressed.
Gacon was very clear about why Orange is taking this approach to XGS-PON deployments but -- based on conversations during the coffee breaks here in The Hague -- the move is somewhat controversial. But, as one experienced network operator staffer noted (in confidence), the 10G PON upgrade will be painful at some stage, no matter which route an operator takes.
So when is Orange going to start deploying XGS-PON technology? Well, not until some major issues have been sorted out, noted Gacon, with interoperability the main hurdle: Orange won't consider deployments until it's satisfied it can source ONT customer devices from multiple vendors that are proven to work with its OLT technology of choice and it seems we're a long way from that state of play.
A key milestone in ensuring such interoperability will be the release of test and certification specifications for XGS-PON by the Broadband Forum and those are due to be signed off during the third quarter of this year. Orange, for one, won't be testing XGS-PON multi-vendor OLT/ONT combinations in its labs until that certification is available -- that was made very clear to all the vendors attending this event.
— Ray Le Maistre, Editor-in-Chief, Light Reading for Broadband World News